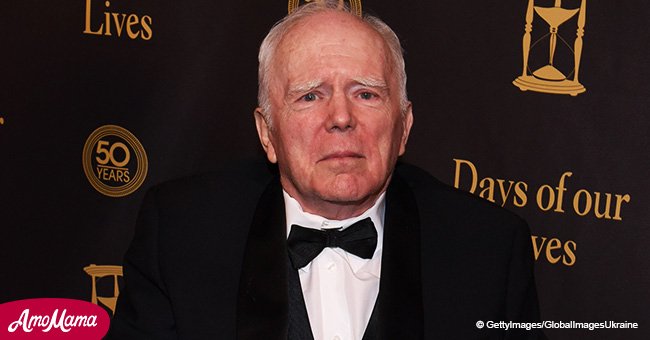 Legendary 'Days of Our Lives' actor dead at 79
Daytime drama lovers are mourning the death of actor Frank Parker. He passed away on September 16 at the age of 79.
Parker was well-known for playing Grandpa Shawn Brady on "Days of Our Lives." His obituary revealed that he passed away due to complications from Parkinson's disease and dementia.
Frank Parker died in Vacaville, California. He was a known veteran actor with a career that spanned more than 50 years.
Parker first made an appearance in film and television in the 60's and 70's. He's featured in soap operas like "General Hospital" and "The Young and the Restless."
For more on this story go to our Twitter account @amomama_usa. Some of the other shows he appeared on were "Gomer Pyle: USMC" and "Lost in Space."
Then in 1993, he landed a role as Shawn Brady on "Days of Our Lives." He stayed in that same character for 25 years of his life.
The actor finally retired in 2008 after his character died on the soap opera. It was around that time that he was reportedly beginning to decline.
His ailing health is what eventually caused him to give up acting for good. Parker's obituary described him as "a people person" who "touched many lives and was loved by everyone."
It was further stated that,
"He could light up a room with his singing voice and was known to burst into song at any moment. He was a ham and loved the spotlight. Above all, he was the most supportive, generous, kind man and father. Frank loved his family."
The legendary actor is survived by his twin daughters, Danielle Dallas, and Lindsay Kyle, from his first marriage to Nola Donelle Rajcok.
In 1998, his first-born daughter, Candace Donelle, died from a car accident.
Parker is also survived by his second wife, Mary Jean Dunning Garofalo who married him in 2005. The news of his death caused many fellow actors to take to social media to offer their condolences.
This week, another "Days of Our Lives" star was in the media for a good cause. Martha Madison marked Frontotemporal Dementia Awareness Week by sharing important information about the disease.
She said on Twitter that her mother was diagnosed with the illness which caused the actress to move her family to Texas and commute to Los Angeles for acting work.
The move came about so she could take care of her mother.
Please fill in your e-mail so we can share with you our top stories!