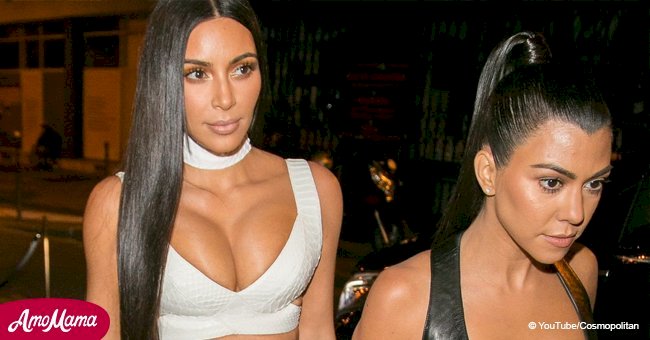 Kim and Kourtney Kardashian continue to argue on Twitter amid their feud

After a recent remark by Kourtney Kardashian to her sister Kim it was clear the feud is not over even though it has been claimed there is no bad blood between the sisters.
Kourtney urged Kim to be more 'positive' following a recent tweet made by Kim where she wrote:
"I hate how @kourtneykardash says issues. She like drags it."
Read more on our Twitter account @amomama_usa.
WHAT STARTED THE FEUD BETWEEN KIM AND KOURTNEY
The two sisters were seen engaging in a heated argument during an episode of Keeping Up with the Kardashian's last month. The television feud started when Kim said that Kourtney was 'the least interesting to look at' after the two sisters tried to sync their schedules for a family photo shoot. Kourtney replied:
"We all have our own priorities. Mine is being a mother."
Kim, now 37 tweeted back:
"And mine is not? The shoot was with our kids!!!!! My #1 priority is being a mother as well and I can work too, so can you!" The fight over twitter continued and when Khloé tried to make peace but Kourtney refused to cooperate.
Kourtney and her children, Mason 8, Penelope 6, and Reign 3 all urged Kim to be kinder quoting the original tweet and wrote:
"Oh wow, hate is a strong word. Let's be positive today shall we?!"
ACCORDING TO INSIDERS
The sisters Kim, Khloé, and Kourtney get in tiffs regularly, but a present Khloé and Kim or on the same wavelength. Both Kim and Khloé have news babies and have a lot to share often leaving Kourtney out of the picture.
Kourtney appears to be more private than the rest of her siblings, sometimes removing herself from family matters. Insiders add that this is not a major feud, knowing their arguments make for good television.
Sister Khloé revealed in August that she had lost a lot of her baby weight since the birth of True Thompson in April. Stating that staying healthy and active is important to her while exercise helps her relieve stress and remain sane. With the public life and the family feuds it causes additional stress and it's good to have an outlet. More about her weight loss can be found here.
Kim Kardashian shocked her fans yesterday when she sent a rude tweet to husband Kanye West requesting to see his 'package' by tweeting to him:
"Grey sweatpants challenge? Lemme see."
The term 'gray sweatpants challenge' is a social media game that went viral where men show off their packages through sweatpants. For more on how Kanye and their twitter fans responded to Kim's tweet follow the link.
Source: Getty Images
Please fill in your e-mail so we can share with you our top stories!