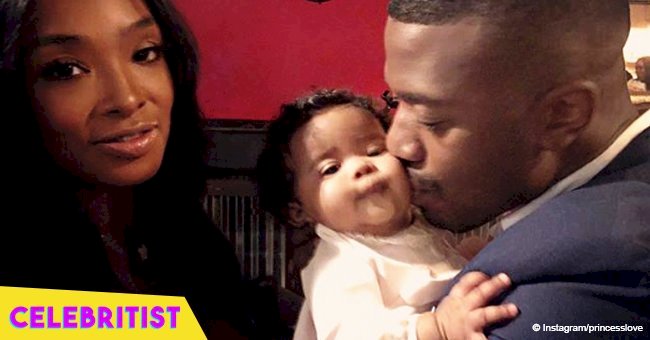 Ray J and Princess Love's daughter Melody makes her first TV appearance on 'The Real'

For the first time ever, Ray J and Princess Love's daughter Melody makes an appearance on TV. Their adorable daughter made her debut on "The Real" and was the main attraction of the segment.
Melody Love Norwood recently made her debut on television as she joined her parents Ray J and Princess Love Norwood on "The Real". The couple was on the show to promote and discuss "Labor of Love", a new special which will soon air weekly. However, everyone had their eyes locked on baby Melody – even the hosts.
This little family has been so cute with all their posts recently. The hands-on parents of Melody often post and share about their daughter. She has been nothing but a blessing and an inspiration to both of them. In fact, Ray J admitted that Melody inspired him as an artist to go over his lyrics. He said:
"I had to go back to the drawing board and listen to all of the crazy, nasty songs that I did, and clean it up. Sometimes, as an artist, it's tough 'cause you wanna continue your creative flow, and sometimes when you write and you take yourself out of the character and now you're someone else."
Ray J and Melody have been proud parents of the little girl, mostly posting photos of her on their Instagram feeds. However, it seems they do not only add joy to their lives but are also doing wonders for their career. Since welcoming their bundle of joy, they have been gaining more publicity through magazine features, show guestings, and now, even their own special feature.
"So it might be a little out of control, but listening to the songs and then going home to the wife and the baby – some of the songs I did, I'm like, 'Nah, it just won't work. It's just not a good feeling and a good representation, so I switched it. I've been doing a bunch of positive, 80's kinda music, and it all centers back around to my daughter and the wife."
Ray J's little princess truly has done magic to his life and his career. Every day, he and his wife get to go home to his source of happiness and inspiration – beautiful blessing made by the two. Hopefully, this little blessing gets more appearance on TV because, at such a young age, little Melody already gained fans.
Please fill in your e-mail so we can share with you our top stories!