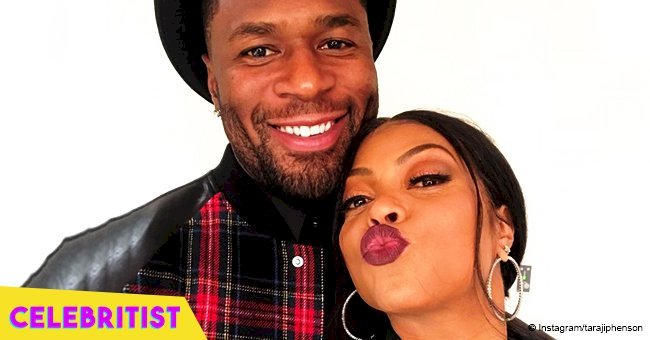 Taraji P. Henson candidly reveals how she knew her fiance is the one

Taraji P. Henson spills it all about her fiancé, and answers the question: "when did you know he was the one?"
Last September 25, Taraji P. Henson openly talked about her love story and engagement on "The View" with the other hosts. The 48-year-old Empire star was engaged just a couple of months back to Kelvin Hayden. She wasn't very public about her relationship but now that things are definitely more serious, she has recently been speaking more about it. Taraji didn't hold back as she honestly answered the question "When did you know he was the one?" She said:
"I knew he was the one when we met but you know guys get goofy and crazy. And so we had this moment and I shut him down for four months. And he fought. I mean, he was relentless. He made three different emails. And you know ladies, have you ever broke up with a guy and you wish he's come to the door and fight for you? He did it. And I said, 'that's the one.'"
She went on to describe how her friends would always tell her she was being too hard on the men she dated, but it was more of her trying to protect her heart. Being the true friends that they are, they hinted that they were taking mental notes of what she was saying in case she ever fell for anyone.
"My friends would always say 'You're too hard. Why are you so hard on men?' I say, 'Because I'm protecting my heart. I'm protecting me.' And if he's about it, he will fight for it. And they saw it come true. They were like, 'Oh girl, okay we're taking a note from Taraji boo.'"
Now that she's engaged to Kelvin, she says that she was finally ready to take a risk.
"You have to. You have to be willing to risk it all and walk away from it all. And if he's about that. He will come and find you and fix it."
Taraji has been doing numerous interviews since her engagement, previously going on "Good Morning America". In another interview on "The Tonight Show Starring Jimmy Fallon", she shared about the day her fiancé proposed to her in May. He was apparently in contact with her son and had arranged for the location of the proposal to be at the restaurant where they had their first date.
Taraji knew nothing about what was going to happen and how the next series of events would change her life. It was definitely a moment to remember, and one she kept private for a while. The wedding is not being rushed as the actress claims she wants to be as relaxed and stressed-free about it, as much as possible. The date of the wedding is currently planned to be around a year's time.
Please fill in your e-mail so we can share with you our top stories!