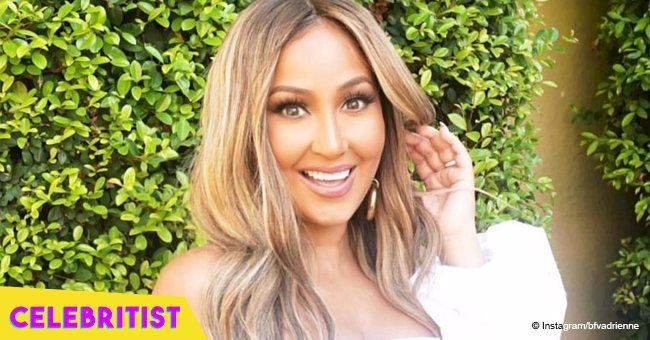 Adrienne Houghton breaks silence on her struggle to get pregnant

Adrienne Houghton wished for herself to get pregnant this year, but she has finally broken her silence on why this still hasn't happened. Revealing that she's been struggling to be pregnant, she is keeping her hopes up as being a mother has always been one of her dreams.
Back in December 2017, she shared on her TV talk show "The Real" that her wish is to get pregnant. For her, that would be such a dream come true, especially since she just really wants to start a family with her husband Israel Houghton, more than anything else.
"My wish for next year would be to start a family," the 34-year-old said on The Real last December. "That would be my biggest dream come true. I've always said I want to be a mom. So um…prayers up and we will see what happens."
Now that we are nearing the end of this year, the Houghtons have not announced their pregnancy, and people have been asking her if she was with child, or when she was planning to be with child. However, the TV host recently revealed that while she does not get offended by the question, she gets bothered by it, especially for someone who just longs to have a child.
Speaking to her co-host and even their viewers about the topic this week, she said that people should be more sensitive to the fact that not everyone can bear a child easily, nor can they have full control on when they get pregnant.
"I know you guys are like, 'Is she pregnant? Her face is fuller.' FYI, I've always had a really chubby face, so that's not what it is. As I told the audience yesterday, I had McGriddles and things to eat yesterday. But I think you should be sensitive to that. As an audience, we should be sensitive to the fact that everybody doesn't get pregnant right away. I think for myself, I thought it would happen so easily for me and it just hasn't happened that way. I have had to come to peace with that, that it will happen when it's God's timing and I believe in that and I have faith in all of that."
Although she trusts in God's perfect timing, especially since she and her husband are fully centered on their faith, she shares that it can get pretty frustrating too, especially since it's something that she really wants more than anything else in the world.
"But it can be really discouraging and it can be really frustrating. So, I think I looked at myself and in my mind, I was like, 'I'm a Cheetah Girl! I'm 19 years old!' And then I woke up and was like, 'Actually, I'm going to be 35 in a few weeks.' That makes a big difference. I can feel as youthful as I want on the inside and in my heart, but my ovaries are what they are, you know what I'm saying? That sucks to hear that."
For now, Adrienne and Israel have been focusing their energy on his album release, holding an album launch party with select people. The lovely couple even shared a duet with one another, much to the amazement of their guests.
As a couple who believes in "God's perfect time", they will definitely continue to have faith, hoping that next year is the year their family finally expands.
Please fill in your e-mail so we can share with you our top stories!