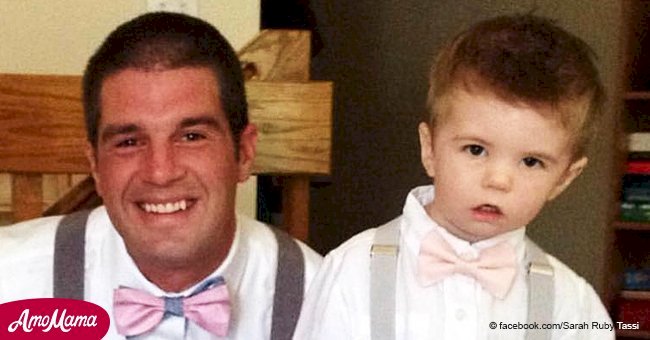 6-year-old boy's first-ever smile after surgery to treat a rare neurological condition

A mother was finally able to see her 6-year-old son, Preston Tassi, smile for the first time after he was diagnosed with a particularly rare condition.
Preston was diagnosed with Moebius syndrome when he was 3 days old, a type of congenital facial paralysis that leads do underdeveloped facial nerves.
As reported by People, it was a very emotional moment for Sarah Tassi, his mother, to see him finally smiling after undergoing two major surgeries.
Follow us on our Twitter account @amomama_usa to learn more.
ISSUES GROWING UP
Aside from leaving him unable to smile, the condition made it very hard for Preston to eat properly; plus, he developed vision and speech problems and his right hand grew different from the other.
"Drinking from a bottle was difficult for him because he couldn't make his mouth come to the bottle. So we figured out a way to hold the bottle with our hands while pushing his cheeks in a little bit to help him eat. You just do what you gotta do and make it work."
Sarah Tassi, People, September 26, 2018
A CREATIVE SURGERY
Every parent wishes to see their baby smile, but in Sarah's case, she had to wait five years for that to happen and only thanks to a very innovative procedure.
Unable to smile on his own, Preston learned to push up the corners of his mouth to mimic the act of smiling, but the surgeons at St. Louis Children's Hospital substituted his facial nerves for inner thigh ones in order to fix it.
LIVE-SAVING PROCEDURES
After just three months, Preston smiled for the first time on Mother's day, when, at a birthday party, someone tried to take a picture of him.
Science has been saving lives and giving people some quality of life throughout the years; just like Preston, Delaney Unger, a dancer from New York, was blessed by the power of science.
A HAPPY ENDING
The young woman was diagnosed with an aggressive type of cancer that resulted in the amputation of her left knee. Fortunately, she underwent a rotationplasty, meaning that her ankle and foot were rotated 180 degrees and attached to her stump.
This allowed her to wear a special prosthesis that allowed her to walk, jump and, overall, dance, something that she never believed to be possible again.
Please fill in your e-mail so we can share with you our top stories!