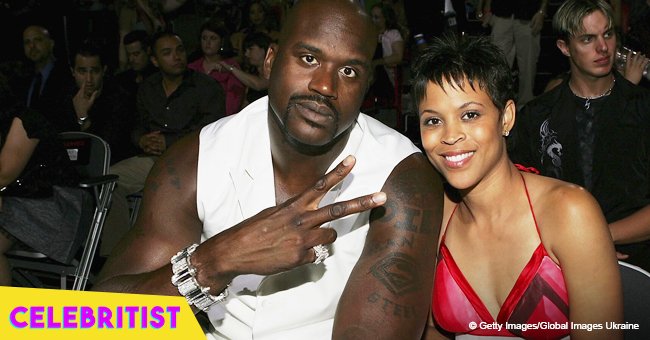 Shaquille O'Neal's ex-wife steals hearts with video of their son flaunting his basketball skills
Shaunie O'Neal delighted fans on Instagram by sharing a video of her youngest son Shaqir showing off his abilities on the basketball court. The 15-year-old is already following his father's and brother's steps, and he has great potential according to experts.
Shaunie O'Neal is a proud mother of five kids, four of which she shares with NBA superstar Shaquille O'Neal. Her two youngest sons, Shareef and Shaquir, seem to carry the love for basketball in their DNA, and the boys have a promising future in the sports industry.
In a recent clip shared to her Instagram, the "Basketball Wives" star gushed about Shaqir's abilities to scare her to death with his actions and kill it on the basketball court with his jumps and dunking skills.
The boy is seen taking impulse and running from a considerable distance before jumping over another young man who was standing by the hoop. Shaqir impressively jumps over the boy's head and slams the basketball on the hoop, making a memorable dunk.
"My Son @shaqironeall sure knows how to make me nervous.... but this is my mood after a great day of meetings!!! Let's Get It!!!! Happy Friday!!!," Shaunie captioned the video.
Her fans didn't take long in filling her comment sections with their impressions on Shaqir. One fan wrote "Yeeees! I see another son of A Living Legend! #grooming #theleague I SO LOVE It! #greatjobmom," and another added, "He is greatness...watch him sore! He just has fun with his blessing Shaunie."
While his older brother Shareef recently committed to UCLA, Shaqir started his ninth year at Crossroads High School, and now that he's the only O'Neal on the school's team, all eyes are inevitably going to be on him.
The boy seems confident in his abilities, and he has the full support of his parents while he keeps on training hard to become an iconic player like his father.
And while these days Shaunie and Shaquille have joined forces co-parenting and doing anything to assure their kids have a good life, after almost eight years of their divorce Shaunie confessed that things were not always so easy for the former couple.
THE STRUGGLES OF CO-PARENTING WITH A CHEATER
Is not a secret for anyone that Shaunie and Shaquille's marriage came to an end because of the man's infidelity, so is obvious that Shaunie was not happy with him for a long time. On an interview she did with LifeStyle Magazine last year, the reality star confessed how hard it was for them to find a middle ground in their relationship:
"We're great now, but it took a long time like we definitely did not have the relationship that we have now the first few years. I mean, we're going on eight years of being divorced now, and I'd have to say the good first five [or] six were really rough. We could function, but it was rough."
And added:
"Now I think we just got over the hump and I've always kind of been [like], 'What's best for the kids,' and I'll make it happen no matter what. Even if he and I can't see eye to eye, I didn't want them to ever be affected by it, and I think he felt the same way. But it was really really hard."
IS SHAQUILLE TRYING TO WIN SHAUNIE BACK?
Last month, O'Neal surprised his fans when he made a bold move on Instagram, posting a photo on a suit from his new suit line through JCPenney, and holding single flower as he captioned it:
"This is the same suit I'm wearing when I marry @shaunieoneal5."
The "Basketball Wives" star was not amused at all by the gesture. As she slammed back destroying the couple's fans hopes for a reunion saying:
"Actually this suit is more fitting for next seasons star of The Bachelor on @abcnetwork #justsayin #wedidthatalready."
And while it seems like the former couple is over their marriage, they're still great friends. "We don't have to talk every day, but we can share everything with each other if we choose to," said Shaunie. "I've teased him about his relationships and things like that. We can openly talk, which has made it so much easier."
And concluded:
"People are always like, oh you guys should get back together — no, that's not happening. We just are cool, and we can function, and we respect each other's space, and it's good."
Please fill in your e-mail so we can share with you our top stories!