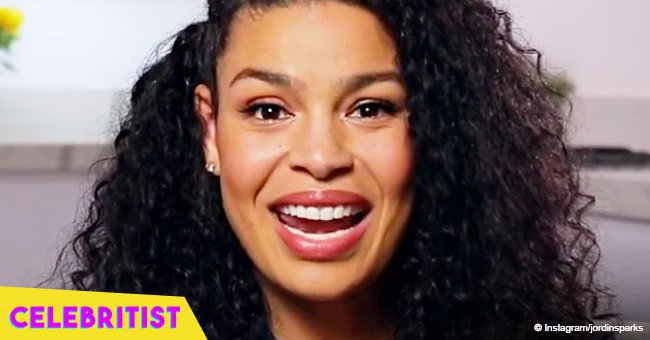 Jordin Sparks melts hearts sharing new photo of baby son with curly hair in striped overalls
Jordin Sparks' 4-months-old son is stealing hearts left and right all-over social media with his cute smile and his bright blue eyes. The boy was delivered through an all-natural birth, and Sparks recently opened about the experience.
The "American Idol" winner has been sharing adorable pics of her son on Instagram since he was born last May. Danah Isaiah Jr., better known as DJ, has become one of the most sought-after celebrity babies of this year thanks to his charming looks.
In a recent pic, the 4-months-old baby boy is the epitome of cuteness as he lays on a sofa wearing denim stripped overall and sticking out his tongue for the camera with a joyful expression on his face.
"OH MY GOSH I LOVE YOU SO MUCH," Jordyn captioned the photo.
The boy's curly hair and wide blue eyes became the center of attention of the pic, as fans took over Sparks' comment section to praise the baby's cuteness. "He has some pretty eyes. Adorable baby boy," wrote one fan, and another added, "Oh, my he is a very happy baby !! he is so handsome, when he becomes a teen, you're gonna have problems, girl he is gonna be a lady killa! His eyes are beautiful," and a third one agreed "He has such pretty eyes. He is precious!! Enjoy him they grow so fast."
DJ came into this world ten months after his parents got married. Jordyn and her husband, Danah Isaiah, met last year in April, and three months later they were tying the knot officially in an impromptu wedding in Hawaii.
The young couple wasn't planning to have kids until the two-year mark in their relationship, but as Jordin revealed, "God had other plans."
A NATURAL BIRTH
The 28-year-old singer decided to have an all-natural birth because, according to what she said to People, "hospitals just felt a little weird and strange [to me]. I had a feeling I wasn't going to be comfortable on my back, and I didn't want to have to give birth that way."
Isaiah, 26, was by Sparks' side through the entire process, holding her, rubbing her back and encouraging her.
When the time came to deliver the baby, Isaiah was the first one to catch his son. "People have told me 'Once you see your wife like that you can never change the image in your head,'" he said, "But I was so excited about him actually coming that I was just like 'All right, come on! Come on!'"
In the first few minutes of DJ's life, the new parents started crying "like babies," as Isaiah explained that:
"It was just that realizing moment, that everything you had been preparing for was here in your hands. Every emotion that you felt throughout the entire pregnancy from start to beginning just 'Bam,' and it hits you."
DJ has only strengthened Jordin and Danah's relationship, and even though they're still learning how to soar through parenthood, they have each other's back every step of the way.
Please fill in your e-mail so we can share with you our top stories!