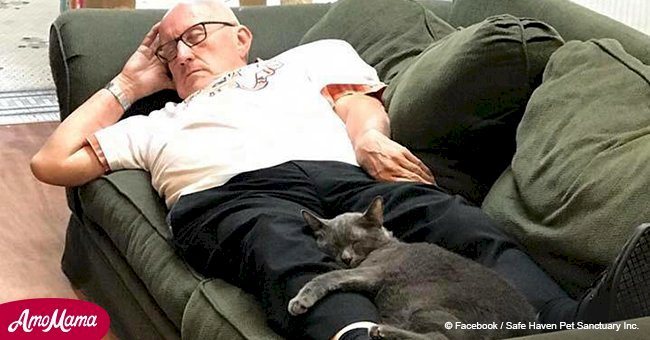 Elderly volunteer at an animal shelter has his own ritual with the cats and it's so cute

Terry Lauerman, a retired Spanish instructor, became a viral sensation after photos of him sleeping next to several cats hit the Internet. The story behind the pictures is beautiful.
As the Safe Haven Pet Sanctuary from Green Bay, Wisconsin, revealed on its Facebook page, Terry introduced himself one day and said that he wanted to work as a volunteer in the shelter.
The senior man said that he wanted to brush cats, so he did it that day. While some people thought that they wouldn't see him again, Terry went back the following day, and the day after that, and so on.
That was not the aspect of the story that attracted more attention, though. Terry tends to fall asleep while brushing cats, and the sanctuary has several photos of it.
"A WONDERFUL VOLUNTEER"
It doesn't bother them as they pointed out that cats need that and admitted that Terry was a wonderful volunteer.
GETTING COMFY
One of the pictures that the sanctuary has uploaded showed the "Cat Grandpa," as people call it, laying on a couch with a dark grey cat between his legs. The brush was carefully placed by the sofa, just as if he knew that he would fall asleep and made sure to get as comfortable as possible.
"WAKE UP!"
Another photo displayed Terry sleeping in a different couch while the cat he was supposed to take care of seemed to be using its paws to wake him up. Read more on our Twitter account, @amomama_usa.
While the photos were cute, the sanctuary didn't expect them to go viral. At the moment, the post has gotten more than 92,000 reactions in Facebook, more than 7,000 comments, and it has been shared more than 24,000 times.
TERRY'S EFFECT
When Terry learned that, he said he hoped all those people could donate and help the cats. Several people did so, and they even created an Amazon wish list so that people could buy food and other items for the cats.
A CAT BEING A CAT
Terry's love for cats goes above and beyond, but he is not the only person who feels that way. Cory is also an animal lover, and he decided to record himself faking a heart attack in front of his cats, Loki and Sparta, to see their reaction.
While Loki completely ignored him, Sparta nudged at his owner in his usual "cuddle me" signal, and meowed a few inquiries. Then, to Cory's chagrin, his adoring pet walked off and took a nap.
Please fill in your e-mail so we can share with you our top stories!