Country singer gets an amazing surprise on stage from his own boys while singing 'Boy'
In a heartwarming video, country star Lee Brice was overwhelmed by a special surprise planned by his wife.
The special surprise came while he was performing his song, "Boy," in front of a live audience. Brice later revealed that the surprise was planned by his wife, Sara, on the occasion of their fourth wedding anniversary.
In the video uploaded to YouTube by Brice's official channel, the country singer is seen prepping up to perform one of his favorite songs in Evansville, Indiana.
Suddenly, Brice's two young sons, Rhykker and Dakota, step onto the stage and run to their father, who was on the road for his tour for a while.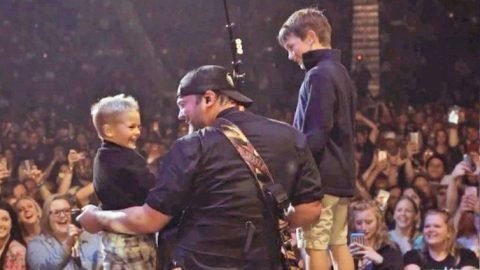 Follow us on Twitter to learn more.
It takes Brice a few moments to get a grasp on what was happening. Then he embraces his sons and says into the microphone, "What are you doing here?" He introduces his sons to the audience, who cheer the family on with a huge round of applause.
Little Rhykker already seems to have taken the star persona from his father as he is seen quickly running toward the front row audience and giving them high-fives and handshakes.
Brice is visibly overwhelmed by his children's presence during his performance. He looks backstage and calls out to his wife, "Sarah! What the world!"
The star then asks his older son, Dakota, what his mother was thinking. That's when the boy reveals, "She wanted to surprise you."
Brice then also introduced his wife to the audience explaining that she would never come out on the stage but was watching them from backstage.
Finally, after composing himself, Brice again took the microphone, went to his knee to match the height of his sons, and started singing out the song that had got interrupted by the surprise.
His soothing voice and hauntingly melodious performance quickly enchanted the audience, and they kept on cheering and applauding to their loudest throughout the entire performance.
Brice's emotional moment has been seen more than 600,000 times and has been liked by more than 7,000 viewers so far.
Meanwhile, Country Rebel reported that Brice's June 2017 single, "Boy," is only one of his many powerful, heart-wrenching ballads.
At the time of the release of the song, Brice's wife was pregnant with their third child, and the country star admitted that it was the right time for the song.
Brice recently also entertained his fans by appearing on the famous game show, "Celebrity Family Feud."
He faced fellow country artist Jerrod Niemann and went head-to-head competing for a cash prize of $25,000 that would be donated to the charity.