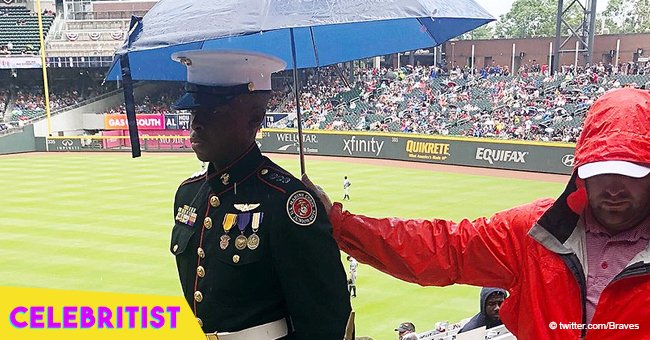 Photo of baseball fan holding umbrella over Marine Corps JROTC member on Memorial Day goes viral

A thoughtful baseball fan shows his respect for a Marine Corps officer by holding an umbrella over him during a mid-game tribute.
The Atlanta Braves recently shared an image of one of their baseball fans showing his appreciation to a cadet that stood at attention during one of their games.
In the photo, a man in a red raincoat held an umbrella for a Parkview High School U.S. Marine Corps JROTC member in uniform who was standing immobile in honor of the POW-MIA Chair of Honor during a Braves/Mets game at SunTrust Park.
It was during the third inning of the game when the entire stadium paused to pay tribute to military personnel and prisoners of war symbolized by the chair. As the officer stood beside the chair that's permanently empty in the stadium, the kind man made sure he was shielded from the rain.
The photo immediately went viral with praises for the noble man's selfless act. On fan wrote,
"They sacrifice so much for us, we can sacrifice for them too!!! #RespectOurMilitary"
Another developed renewed hope for Americans.
"Still good loyal Americans left in our nation. Thank you."
These random acts of kindness towards men in uniform are a source of inspiration to many, as this story proves. And they go both ways too. A soldier from Chicago made headlines in 2016 after he selflessly bought two young boys food at a Taco Bell after they approached him to sell goods for their church. Army Ranger Lt. Col. Robert Risdon said he thought it was the right thing to do seeing the two boys looked cold, tired and hungry. His immediate instinct was to help them. Risdon's friend who was with him at the time posted about his kind act. His popularity since his story went viral humbled him even more.
Meanwhile, two soldiers who met again after 50 years found themselves forming a deep connection due to the kindness of one of them. Vietnam war veterans Jim McGee and Doug Coffman reunited during a funeral service of a fellow veteran. It was then that Coffman learned McGee was in need of a kidney. Coffman donated his own and now they share more than just war memories.
Please fill in your e-mail so we can share with you our top stories!