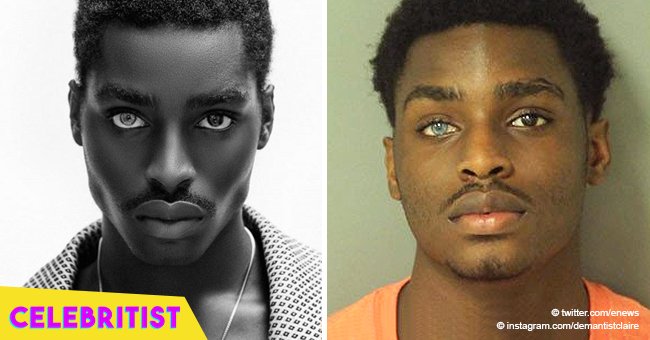 Former inmate with different-colored eyes lands modeling career after mugshot goes viral
A former inmate has gotten multiple job offers since his release from jail due to his unique eye colors. He was discovered by multiple modeling agencies recently after his mugshot went viral thanks to a Twitter account.
One North Carolina man went from a prisoner to a model after his arrest made him internet-famous. Mekhi Alante Lucky, whose arrest photo first went viral in 2016, ended up landing a contract with Atlanta-based agency St. Clair Modeling.
Lucky easily landed the job thanks to his unique facial features, particularly his one blue eye and one brown eye which was made possible by a genetic condition called "heterochromia".
After landing his contract, he was booked to walk on the New York Fashion Week catwalk, which makes it a good two years since his discovery.
During an interview with Inside Edition, St. Claire Modeling founder Demanti O'Bryant said that after seeing Mekhi's mugshot, he was amazed at how unique and extraordinary he looked.
"I saw his mugshot last year. His look is extraordinary. I immediately found him interesting. I just didn't know who he was. Eventually I found him on Instagram and reached out."
Mekhi Lucky was arrested in April 2016 for his alleged possession of a stolen vehicle and alluding arrest. He also had two misdemeanor charges for interfering with emergency communications and resisting an officer.
However, the 5'10" model has not been convicted of any felonies.
After discovering him on Instagram, O'Bryant flew Lucky out for a test shoot in July, which went great.
Despite his past, the founder said that he gave Lucky a clean slate and that he was well-mannered, to begin with.
"He has a clean slate with me. I haven't had any problems with him,. He's very well-mannered for the most part. For me, he acts like he has his head on straight and he's very open to learning because it's a whole lifestyle change. He is just absorbing it all."
Just like Mekhi, a 19-year-old woman got lucky after her mugshot went viral, but this time for having some neat makeup skills. Arrested for marijuana possession, Marsha Perkins posed for her mugshot while wearing pink colored eyeshadow, well-groomed brows, false lashes, plump lips, and of course, a contoured nose.
This had people very amused, and some have even gone so far as to suggesting for her to open up her own makeup line.
"Someone has reached out to me about starting my own makeup line. It's crazy. My mind is blown."
Although she didn't want people to know about her arrest at first, it ended up going viral, and it has caused her fame. She has since then been doing makeup tutorials for her "fans", and life has gone nowhere but up for her.
These two people are living proof that making mistakes is not a reason to give up on yourself and quit. You can always get back up and do better than you did before, and the only thing stopping yourself is you.
Please fill in your e-mail so we can share with you our top stories!