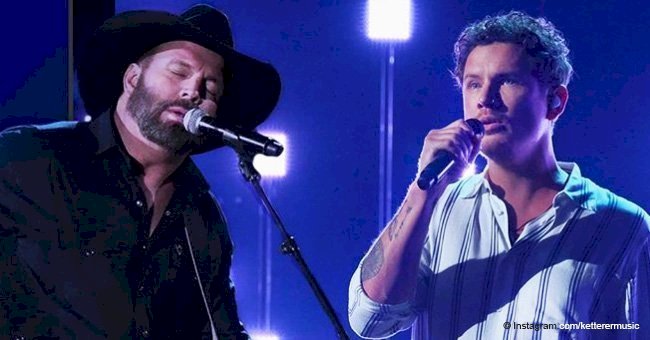 'AGT' finalist posts sweet picture with wife following arrest on suspicion of domestic abuse
Michael Ketterer posted a picture-perfect image on Instagram of himself smiling with wife Ivey on a grassy hill.
Behind them, the sun's rays peeked between a trees' branches. The two shared a warm embrace as they look at each other.
The 41-year-old was arrested in Hollywood, California just last week on suspicion of domestic violence. He and his wife admitted they had a fight.
According to ET, LAPD confirmed that Ketterer was charged with a felony, booked, and released on $50,000 bail.
Subsequently, L.A. City Attorney's Office did not charge him but the America's Got Talent finalist canceled his upcoming appearance at the Garth Brooks's concert.
Brooks divulged that he spoke to Ketterer over the weekend after the incident and they both agreed that it would be better if he didn't perform.
Ketterer was a contestant on season 13 of the show. He received a Golden Buzzer from none other than Simon Cowell during his audition.
The finale was aired the night before the arrest. Ketterer placed fifth, losing to close-up magician Shin Lim during the finale.
Ketterer referred to last week's occurrence as a "misunderstanding."
He captioned the Instagram photo with the following:
"The Dream Team #teamketterer #wearestronger #ketterlife @iveyketterer #agt"
Ketterer and Ivey share six children together: one daughter and five boys who were adopted. Among them, Rodrigo, 9, has cerebral palsy.
Frank Mateljan, LAPD's spokesperson, stated that Ketterer will participate in a City Attorney Office hearing.
"During those hearings the parties involved are scheduled to come in to our office and relay the details of the event in question, are advised of the law and are given suggestions as to how to avoid future similar incidents."
"While we do reserve the right to file criminal charges up to one year from the date of the incident, no further action is taken pending any additional information or actions."
Details of the incident were revealed earlier this week. Ketterer was reportedly taken into custody at 3:45 p.m last Thursday.
He admitted that he and his wife argued in their hotel room in the 1700 block of North Highland Avenue.
When the police saw a red mark on Ivey's body, they said they were lawfully obliged to take him in although she didn't want to press charges.
While nothing is confirmed, it is worth noting that over half of murders of American woman are connected to a romantic partner.
A report released by Centers for Disease Control and Prevention in 2017 revealed the surprising statistics. A study of 10,018 deaths between 2003 and 2014 showed that 55 percent were intimate partner violence-related.
This means that the killing was at the hands of current or former partners, or the partner's family or friends. 93 percent of the culprits were current or former partners.
Please fill in your e-mail so we can share with you our top stories!