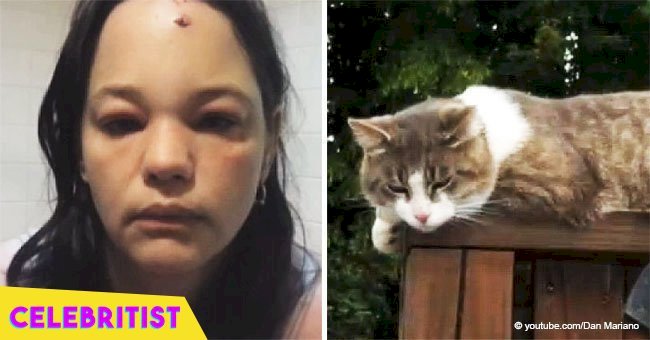 Cat gets revenge on woman who was kicking snow at his face
Buddy, a stray cat, viciously attacked the woman that had rescued him after she threw snow on his face to calm him down. The horrific incident was captured on surveillance tape.
A woman from Michigan identified only as Maxx was attacked by her rescued cat when she tried to protect her mother's dog. On a snowy day, the woman realized that Buddy was assaulting her mother's dog, so, to protect the pup, she went out and tried to calm the cat down.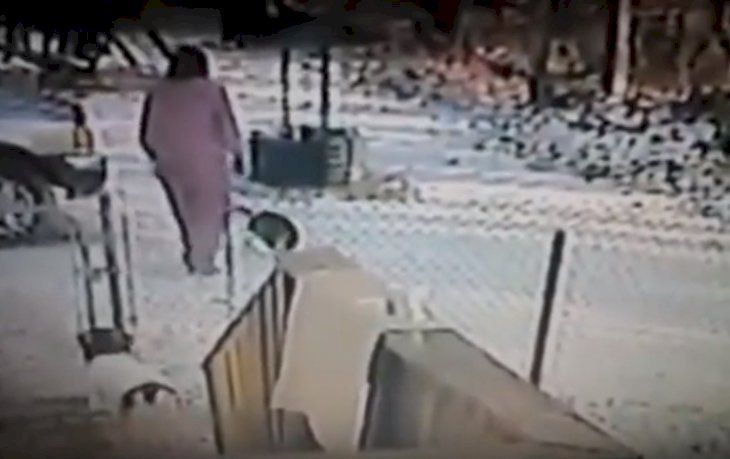 Source: YouTube/FunnyVideosTV
However, the feline wouldn't budge that easily. Maxx resorted to kicking snow on the cat's face as she backed him up and away from the dog, but in a surprise attack, Buddy jumped and pounced on her face, viciously biting and scratching.
The video shows how Maxx slips on the wet floor and falls to the ground with the cat on her face, as she fights to get free of his hold. When she gets a hold of the animal, Maxx throws him off to the side, and while Buddy lands on four legs, Maxx stumbled back inside her home grabbing her head in pain.
A SERIOUS INFECTION
Maxx went to the hospital immediately to get treated, as Buddy sank his teeth on her forehead, and scratched all over her face.
The woman ended up getting an infection called cellulite, causing her face to swell and deform. According to the doctor and animal control people, Buddy's offensive behavior could have been caused by rabies.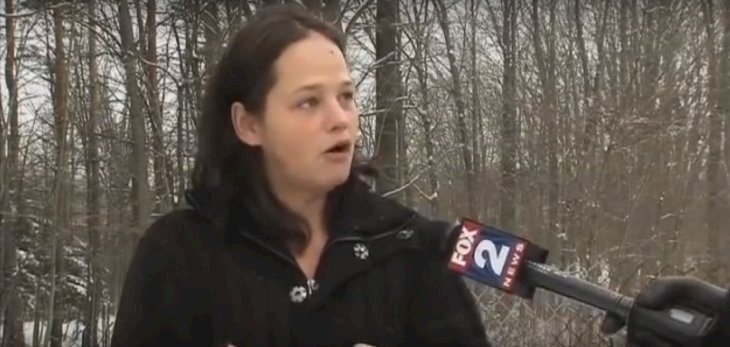 Source: YouTube/Dan Mariano
Even though he was a stray cat, Maxx stated that she didn't understand his odd behavior. Eventually, Buddy had to be tested for rabies, and for that, he was euthanized.
A TRUE CATS' LOVER
Despite her injuries, Maxx didn't hold a grudge with the cat, and she was sad when he was taken. She told Daily Mail:
"I saved [Buddy] from someone else who was going to put him to sleep, and he was very sweet. When they came for him, I couldn't even see, because even though he did that to me, I knew what they were going to do to him."
Maxx has three other stray cats, and she said her love for cats remains intact. She will keep on rescuing felines whenever they need her since not all cats are the same and the majority of them are the sweetest creatures.
A HUMAN GETS REVENGE ON HIS CAT
One perfect example of a sweet cat is Italics the cat, who got the scare of his life when his owner, Nicolas Tecosky, decided to teach him a lesson.
The cat wakes up Tecosky very morning at 4 am, meowing loudly on his ear and demanding attention, food or whatever he feels like it at that ungodly hour of the morning. But while Italics can enjoy a good nap through the day, his owner leads a busy life and can't have that luxury.
So, tired of being awakened before his alarm tone, Nicolas decided to take a little revenge on his little friend while filming it. The video has gathered over 9 millions of views, making Italics a favorite of cat lover on the internet.
In the clip, the feline is seen sound asleep on Nicolas' bed, and the man approaches slowly, suddenly meowing loudly on Italic's ears as the cat jumps off scared and looking scared and confused. Tecosky can't help but laugh and ask "were you sleeping? Don't meow in the middle of the night" while Italics goes back to rest.
A BLIND THERAPY CAT
Another excellent example of sweet felines is Donny, a blind cat with special needs. Donny is part of the NSALA's Outreach Program where he helps patients get through their difficult times in hospitals and nursing homes, interacting with the residents and patients alike and calming them down with her purring.
Susan Smith adopted Donny when he was only 3-months-old. When Smith's mother was diagnosed with lung cancer, she took Donny to the hospital regularly to visit her.
Smith recalls:
"I immediately started bringing Donny there to cheer her up and it worked. He would lay on her for hours while she petted him, often both falling asleep."
Donny regularly visits her at home now that the 88-year-old is in remission, and when not there he frequents retirement homes and patients of treatment facilities for those with dementia.
Please fill in your e-mail so we can share with you our top stories!