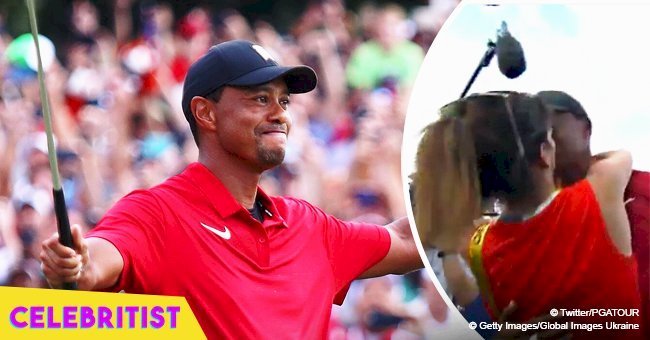 Tiger Woods celebrates his first win in five years with a kiss from girlfriend
After a five-year drought, golf champion Tiger Woods scored his first win at the 2018 Tour Championship on Sunday and sealed the deal with a kiss from his girlfriend. From gala dinners to tournament opening ceremonies, the pair has remained inseparable ever since.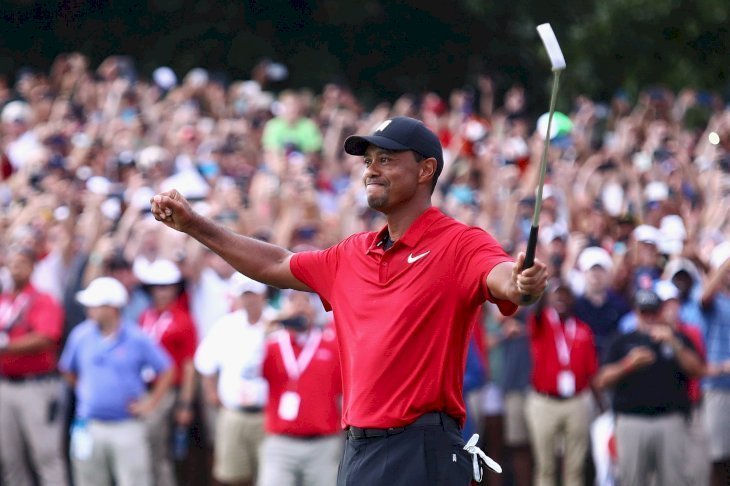 Getty Images
Woods' victory at the "FedEx Tour Championships" was the first since his 2013 run at the "WGC-Bridgestone Invitational." The former "World Number One" secured his win with a final round 71 and a two-stroke win over Billy Horschel.
It's been a rough couple of years for Woods who not only suffered setbacks from injuries, but also from a humiliating arrest that did nothing good for his reputation. According to one tweet celebrating his victory, Woods appears to be back in the winners' circle, and there's one special woman he pulled right along.
SPOTLIGHT ON NEW LOVE
While the crowd went wild over his historic win, an ecstatic Woods made his way to the sidelines where stood the new woman in his life, 33-year-old Erica Herman. The sportsman brazenly scooped Herman into a hug, and the petite brunette reciprocated as the world watched.
Herman, a former manager for Woods' restaurant, "The Woods Jupiter," was first spotted with the star late last year at the Presidents Cup in New Jersey. Since then, the duo has been seen multiple times, on some occasions with Woods' children, Sam, 11, and Charlie, 9.
AN EVENTFUL PAST
Woods, 42, shares his kids with ex-wife, Elin Nordegren. The estranged couple ended their six-year marriage in 2010 after cheating allegations linked Woods to multiple women. The golf legend went on to date Olympic medalist Lindsey Vonn from 2012 to 2015, and stylist Kristin Smith from 2016 to 2017.
Herman and Woods' relationship went public around the same time he was to appear in court for a reckless driving charge.
Woods was arrested in May after Police found him asleep at the wheel of his parked car in Florida. Subsequent testing revealed he had five drugs in his system. Herman was there to show support for her man as he pleaded guilty at the October hearing.
The humiliating arrest was another point in the golfer's list of woes. Previous years had seen him battle a series of back injuries and multiple surgeries that left him unable to play his best. Despite these, Herman stuck close.
Asides the public display of affection, Woods acknowledged his woman's role in the historic win, saying:
"I just can't believe I pulled this off after the season I've gone through. It's been tough. It's not been easy the past couple of years. I've worked my way back and I couldn't have done it without the help of everyone around me."
FIRST COMES LOVE
People Magazine earlier reported that although Woods was in no hurry to walk down the aisle a second time, he was utterly smitten by his new love interest.
That much was evident as the couple was spotted cozying up for the cameras earlier this week at a "Ryder Cup 2018" gala dinner in Versailles, France.
Herman stunned for the occasion in a monochrome maxi gown that featured a thigh-high slit and keyhole cutout in front.
Silver heels and a matching clutch completed her ensemble as she posed by her partner alongside the US Ryder Cup Team.
Herman was also by Woods' side as the latter attended the tournament's opening ceremony and confessed his apprehension.
"My overall Ryder Cup record, not having won as a player since 1999, is something hopefully we can change,"
The current "World Number 13" said, adding:
"It certainly is something that - looking back on my entire Ryder Cup career - that's not something I enjoy or like seeing."
A LOVE FOR ANY WEATHER
Sadly, the competition, which commenced September 28, is not turning out as Woods hoped. According to USA Today:
"Tiger Woods' Ryder Cup record got a little worse on Friday morning. After his 3 and 1 loss alongside Patrick Reed to Francesco Molinari and Tommy Fleetwood, Woods is now 5-9-0 in fourball matches and 13-18-3 overall."
Win or lose, however, it seems there's at least one person who'll always see Woods as a winner.
Yes, you guessed right: Erica Herman.
Please fill in your e-mail so we can share with you our top stories!