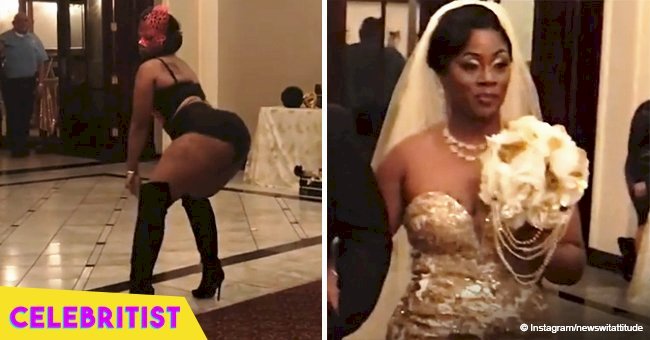 Unbashful bride twerks in skimpy outfit and Mardi Gras mask during her wedding reception
A bride from Texas proved that the bashful type was not her style. She ditched her traditional dress for a skimpier outfit and twerked the night off to entertain her guests during her reception.
The video of her sexy performance became viral almost instantly, and she will be remembered as one of the most iconic brides of the year for sure.
Stephanie Payne is a fun girl, and her wedding had to be just as fun. When she decided to marry her boyfriend of eight years, Justin Payne, she knew she didn't want a mediocre wedding. So, after all the proper wedding protocol, like walking down the aisle in a traditional gown in dazzling gold and exchanging vows, Payne was ready to get the party started.
Stephanie entered her reception wearing her first dress and later changed into a white gown while doing a sexy dance with her husband, but as the night passed by, her guest couldn't have imagined she had a big surprise in store.
The Texan woman decided to spice things up by changing into yet another outfit before performing a surprising number for her guests and her husband. Stephanie fit into a pair of black shorts that left little to the imagination, a black and red crop top and a Mardi Grass mask and made her second big entrance of the night.
The honeymoon-ready bride twerked unabashedly, and even did a front flip in knee-high stiletto boots, before running into a split on the dance floor in front of her stunned husband.
Her friends and family went wild with the cheers, much like the netizens who saw the video all over social media and had a lot to say about her actions.
Stephanie spoke to ABC13 about her memorable performance and why she wanted her wedding to step out of the ordinary, saying:
"I didn't want to get the traditional white gown; I actually wanted a red gown, red is both our favorite colors, so I said I'd find what I could find. I think they weren't expecting that. I don't think they were expecting anything that happened... I wanted to be different and untraditional, but most weddings I've seen, they didn't do any dress changes."
She recalled the particular moment of her performance:
"I remember all the lights flashing from everybody's cameras, everybody awing and everybody oohing."
"And just the moment I see my husband there. I wanted to wow him, and I wanted everybody to be happy."
When she learned that some people found her act inappropriate, she said,
"Why would I want to be like someone else? Where is the action? Where is the happiness? Where is the party at? Where is the celebration? It doesn't have to be mellow. Everything doesn't have to be so mediocre and to keep doing the same thing as tradition. Let's have a really good party!."
A SPECIAL FIRST DANCE AS HUSBAND AND WIFE
Michael and Jerusha had a fairytale wedding night. She looked gorgeous with her long blonde hair falling down her back and her beautiful dress, and he looked charming in his classic black suit. So, when they took the dance floor for their first dance as husband and wife, their guests were expecting a traditional dance.
And that's what they got, until the record scratched, literally.
The couple was immersed in a slow dance, with Jerusha gracefully twirling around and Michael gently pulling her down to kiss her. But in the middle of their dance, the music cut out, and they stood confused for a few seconds before the DJ handed Michael a cowboy hat.
At the same time, Jerusha lifted her dress to uncover a pair of cowboy boots, as they burst into a performance of "Footloose" while the crowd erupted into laughter and cheers finally getting the surprise.
ANOTHER FIRST DANCE…BUT WITH THE FATHER'S BRIDE
Brides keep on getting creative to surprise their guests in the most incredible ways, and Mikayla Phillips got her father involved in her plan to make her wedding reception unforgettable.
Nathan Ellison and his gorgeous daughter started their father-daughter dance following the notes of a beautiful slow song, but in the middle of their dance, the music cut off as they burst into an epic dance battle to several hit songs, like "Can't Touch This," "Party Rock Anthem" and "Bye, Bye, Bye."
The fun duo had bright smiles on their faces through the entire mashup, and guests were more than happy about getting to witness such an epic showdown.
Please fill in your e-mail so we can share with you our top stories!