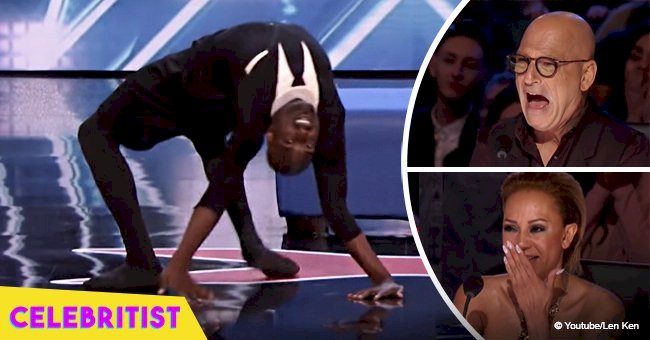 This contortionist freaked out the judges with his terrifying spider routine in viral video
Troy James, also known as "Twisty Troy," wowed the judges of "America's Got Talent" with an impressive audition that terrified the audience. The human resources worker was born being very flexible, and now he's making his way into Hollywood.
James looked shy and reserved when he took the stage on season 13 of "America's Got Talent." His shy smile couldn't have prepared the judges and the audience for what they were about to see.
When asked what he was going to show, the 29-year-old mysteriously replied: "you'll see." Soon, he was bending and twisting his body in improbable ways with a circus song in the background as he smiled devilishly.
His act turned into a freaky demonstration of flexibility, as he crouched down and walked backward down the stage to the judges' table, Linda Blair style, freaking out the live audience and Simon Cowell, Howie Mandel, Mel B and Heidi Klum with his abilities. To end his fantastic audition, Troy jumped in all four to a couch and dropped all his extremities to the floor like a ragged doll with no articulations.
The man got a standing ovation from the public and the judges, who couldn't hide how impressed they were with the contortionist. Simon and Howie agreed that Troy should make horror movies, while Mel B said he was charmed by how different he was and Heidi Klum stated: "there's no one like you."
Troy passed the audition with four yes, but unfortunately, he only reached the judge's house, when he got eliminated before the live shows of the competition.
However, Troy's career in the entertainment industry is only starting. The man has now appeared on several horror films and series, like "The Void," "The Strain," "Shadowhunters," and "Channel Zero." Last months it was announced that he would be playing villain Rag Doll on CW's "The Flash."
Bullied in school for his flexibility, it was until high school that Troy started to show off his ability. He always took his flexibility for granted, believing that anyone was capable of contorting his body like him.
When asked by Dread Central if there's an unusual condition for his flexibility, James said:
"I have no idea. I was born preternaturally flexible. I like to think it was because I was born 4-months prematurely, but otherwise…
"The physicians of social media have decided I have Ehlers-Danlos syndrome. That's news to me, but maybe I should go with that."
It seems like there's more to come in Hollywood for Troy, and he also wants to try motion capture for video games aside from making more horror movies.
ANOTHER CIRQUENSE ACT
Mary and Tyce, a married couple from Utah, also perform a trapeze act together. The couple auditioned for the show as well, and they made it all the way through the judges' cuts.
However, as they were trying to impress the audience with a difficult performance that involved fire and a blindfold, things almost took a deadly turn, as Tyce missed his mark and didn't catch his wife on time. Luckily for everyone involved, Mary realized on time she was on a free-fall and twisted her body as to avoid falling on her head.
After she assured everyone she was alright, the couple requested to do the blindfold trick one more time. The judges denied them the chance, telling how even though they made a mistake, their audition was something out of this world and it only made them more human.
Please fill in your e-mail so we can share with you our top stories!