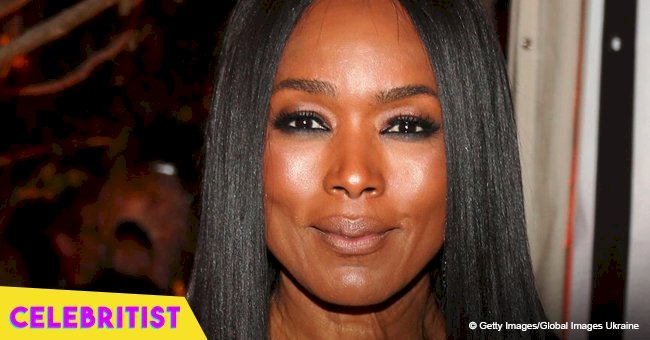 Angela Bassett, 60, stuns in white pantsuit in recent picture with husband Courtney B. Vance

"Black Panther" actress, Angela Bassett, was recently spotted flaunting her ageless beauty on a night out with husband and fellow actor, Courtney B. Vance. Bassett once revealed she met her husband while he was dating someone else.
Bassett posed next to her husband of 21 years in a glittering white pantsuit that sat perfectly on her fit frame. She let her voluminous curls fall past her shoulders freely.
Minimal makeup, turquoise earrings, silver heels, and a white clutch nailed the classy ensemble. Meanwhile, Vance, 58, looked dapper in a grey suit.
The couple was out and about in L.A for the Los Angeles Philharmonic's opening night concert and gala on Thursday.
Earlier this month, Bassett, known for her ageless looks, displayed her dancing skills at her 60th birthday bash. A source told Page Six:
"She was dropping it low and was all over the dance floor. It was such an incredible, positive vibe."
The "London Has Fallen" star partied with guests like Regina King, Tina Lawson, Tasha Smith, and Gabourey Sidibe.
At 60, Bassett shows no sign of slowing down. In February, the mother-of-two was busy promoting her latest work, the phenomenal hit, "Black Panther." During one of her interviews, Bassett shared details on her relationship with Vance.
After mentioning that they met in drama school, she recalled he had a "beautiful" girlfriend at the time:
"He had a beautiful, beautiful girlfriend at the time, who was also in drama school with us. So maybe about 14 years later, our paths crossed here in Los Angeles. And I was single, he was single. And I had such an appreciation for him over those years — of his consistency, how he treated other people, of what a supporter he is, what a connector of people and ideas he is, how passionate he is."
Bassett also described the "Joyful Noise" actor as an "amazing father." Vance and his Hall of Famer wife are parents to 12-year-old twins, Bronwyn and Slater.
Most recently, Bassett tried her hands at curating and did an exceptional job. An art lover herself, Bassett enjoyed organizing the show for Chelle Barbour's Afro-Surrealist collages that explore the depictions of African American women in the media.
Please fill in your e-mail so we can share with you our top stories!