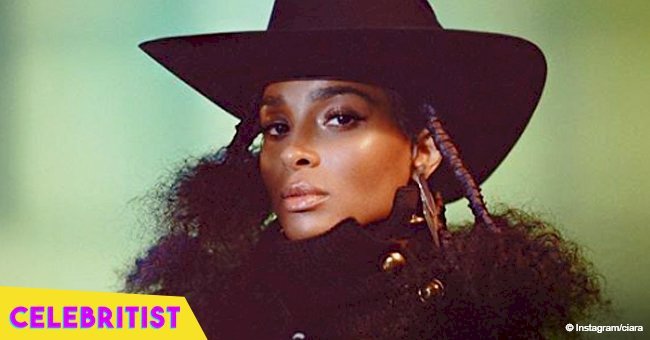 Ciara is unrecognizable in a cowboy hat and puffy coat in new set of photos
After the success of her single "Level Up," Ciara keeps on making headlines, this time around, thanks to her midwest inspired photo shoot for King Kong magazine. Ciara looks almost unrecognizable in a series of intricate outfits that has gathered mixed opinions from fans.
Ciara is back in full force to the entertainment industry after taking a break to take care of her daughter, and she's been working non-stop to get back into her rightful place as one of the most iconic female artists of our time.
Her "Level Up" challenge put her back on the map, and now she's been releasing more singles, music videos, dance challenges, and controversial photo shoots as a way to maintain her relevancy in the so competitive music world.
A MIDWEST TURN TO HER FASHION
The mother of two will be gracing the cover of the eight edition of King Kong magazine, an arts publication that showcases the work of ground-breaking artists, designers, models, musicians. The Midwest inspired shoot had Ciara wearing a series of intricate outfits evocating a high fashion cowgirl.
In one of the pics shared to her Instagram, the 32-year-old looks small wearing a blue printed turtleneck top, cut off jean shorts and an oversized coat with a landscape printed on it. She accessorized the look with a cowboy hat and red-tinted sunglasses
Her hair is braided into several plats with red ribbons wrapped around them and puffy ends. She completed the look, with a long wooden necklace and strappy high heels.
Ciara's fans took over her comment section to discuss the look. And while some are loving it, stating how the singer can rock whatever she wears, others considered the whole look is "too much."
User @raven_tevie wrote:
"Fashion isn't always made to look good or be pleasing to the eye. Sometimes it's simply made for fun like art, or to make a statement."
While @brown_bxbby_girl was more blunt saying:
"Not to be rude I love me sum Ciara, but wtf is she wearing?"
And @shelleyextensions said:
"I just can't with the hair! It is amazing!!! The whole look is beautiful, but that hair."
A BIT OF BACKGROUND ON 'LEVEL UP'
While many people all around the globe have been dancing nonstop to the Level Up challenge, few are aware of the inspiration behind the hit song.
Last year, Ciara took to her Instagram to share a video from pastor Jon Gray where he advises women on how to behave to get a husband. At the time, she captioned the post "#LevelUp," but many women took the message in the wrong way, slamming Ciara for diminishing women's worth to being just a "wife."
Speaking to ABC News earlier this year, the singer talked down the controversy saying:
"I believe in the philosophy: Act like a queen to be treated like a queen. It doesn't necessarily mean you have to be in a relationship... it's not about someone validating you. You validate yourself with how you love yourself -- that validation is important, first and foremost."
And added:
"If I love myself first, I'm taking care of myself and then I can also be loved how I deserved to be loved. It was just to say level up -- level up on how we love ourselves."
The song became a viral sensation and has inspired thousands of people around the world, from professional dancers to fathers with sick kids, the challenge was a complete success, and Ciara couldn't be happier about it.
Please fill in your e-mail so we can share with you our top stories!