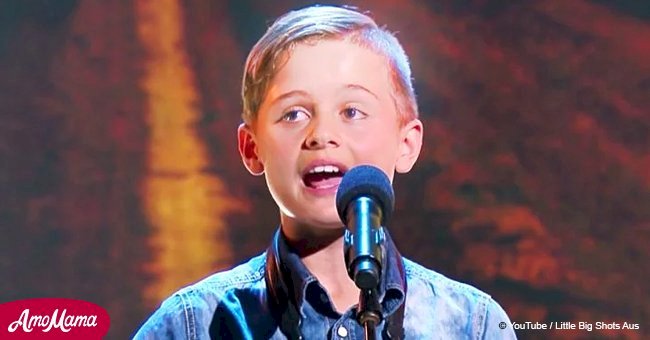 Little country boy can't stop smiling during jaw-dropping performance in 'Little Big Shots'
An 11-year-old boy from Sidney, Australia dreams with performing on the other side of the world: in Tennessee. The country music enthusiast performed on the show "Little Big Shots," and he stole the hearts of the audience with his smile.
Sonny French love for country music was inherited. His parents have their country band, and the boy grew up listening to the song and every story behind it and inevitably developed a passion for the genre too.
The boy was featured on an episode of the Aussie version of "Little Big Shots," hosted by Shane Jacobson, and he charmed everyone with his bright smile and shy personality. When the host explained to the boy that is rare to find kids who love country, Sonny replied: "it's just who I am."
He learned how to play the ukelele at six-year-old, and he's already so good at it that he can play it behind his head. Sonny has been singing from a young age, and an adorable clip of three-years-old Sonny singing acapella to Glen Campbell's "Rhinestone Cowboy" was played on the show. The crowd loved it, but the boy was humble about his talent.
BIG DREAMS FOR A BIG BOY
Sonny also revealed that one of his big dreams is to perform at the Grand Ole Opry in Nashville Tennessee one day. The boy even has a guitar signed by iconic country singers like Willie Nelson and Johnny Cash.
But even if he loves singing and making music in general, little Sonny also has another passion, as he revealed that, in case of music doesn't work out for him, he'll probably become an athlete, as he already practices long jumps, and he's pretty good at it.
When the time came to perform, Sonny's dad joined him on stage on the guitar, as the boy enchanted everyone with a beautiful rendition of "Rainbow Connection." Originally sung by Kermit the Frog on "The Muppets," the song was given a country twist by artists like Willie Nelson.
With his angelical voice, Sonny is surely going places.
A COUNTRY BOY IN 'LITTLE BIG SHOTS' AMERICA
Cash Singleton is an 8-year-old boy from Kentucky who also loves country music. He won the first place on the Beginner Division of the Kentucky Opry Talent Search last year, and like Sonny, Cash dreams with performing at the Grand Ole Opry in Nashville.
Singelton made an appearance on "Little Big Shots," where he got to chat with host Steve Harvey about school, life in his 100-acre ranch in Kentucky and his best girlfriend. Cash also introduced his older brother Cutter, who plays eight instruments. The boy can be seen playing the dobro on the show, and he even got a moment to shine with a solo on the show.
Cash wowed the audience with an energetic cover of Buck Owens' "I've Got A Tiger By The Tail," earning the praise of people all over the country.
Please fill in your e-mail so we can share with you our top stories!