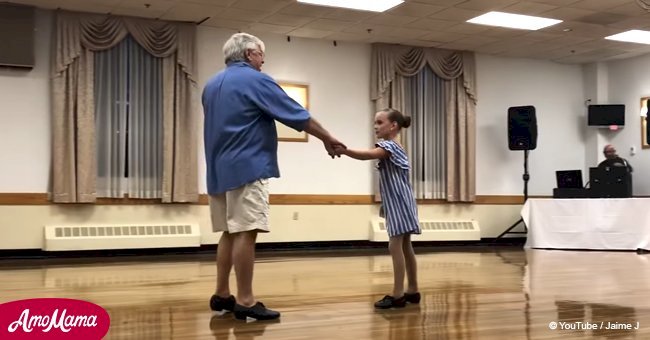 Little girl and her grandfather literally turned tap dancing show upside down
Maeve Jones is a 10-year-old girl who has a special relationship with her grandfather Bill Jones. Her mother, Jaime Casey Jones posted a video online of the two tap dancing at a recital.
Maeve asked her grandfather to be her partner for a tap dance recital in the summer which he agreed to. In only took 6 lessons for the pair to get their routine polished out.
Jaime Casey Jones revealed in the caption of her post that her grandfather-in-law, Bill Jones, 72, had agreed to be Maeve Jones' tap dance partner. The two practised for an hour a week for 6 weeks.
The dance was choreographed by Elyse Williamson from the Top Dance Center in Reading, Massachusetts. Maeve had this to say afterwards:
For more on this story go to our Twitter account @amomama_usa.
"It's crazy. My mom says my grandfather loves to dance, and I asked him if he wanted to do a tap duel with me, and we did it. And it's amazing."
The two got on stage wearing matching clothes. Bill wore a blue shirt and shorts while Maeve was dressed in a blue and white striped dress.
Grandpa Bill doesn't seem the least bit nervous as he stands across from his granddaughter. As soon as the music begins, the lessons they received start paying off.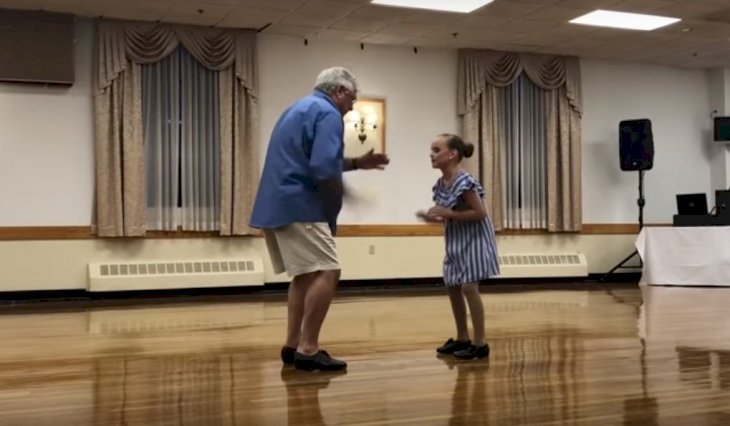 Source: YouTube/Jamie J
Surprisingly, Bill moves with ease and even matches his granddaughter's energy on stage. The crowd could be heard cheering for them throughout their performance.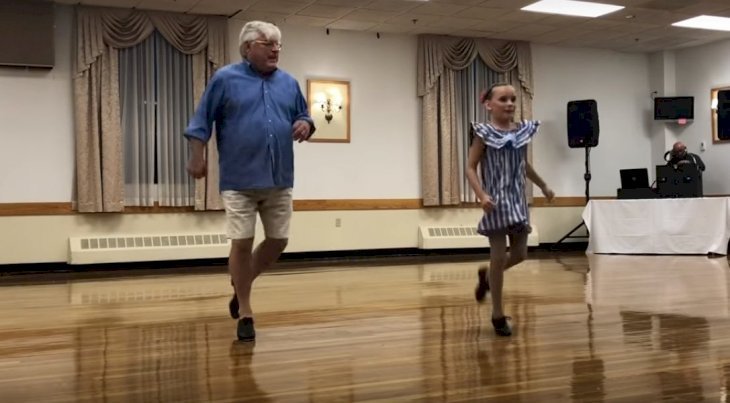 Source: YouTube/Jamie J
At the end of their performance, Maeve does a cartwheel and shockingly her grandfather pulls the same move too. Everyone is surprised and people could be heard clapping enthusiastically.
Bill lovingly kisses Maeve on the head as the two leave the stage thrilled with their performance. The video has been shared on YouTube and Facebook by Jaime.
Another similar story features Rachel who is the caregiver for her 93-year-old grandfather. He's going through stages of Alzheimer's.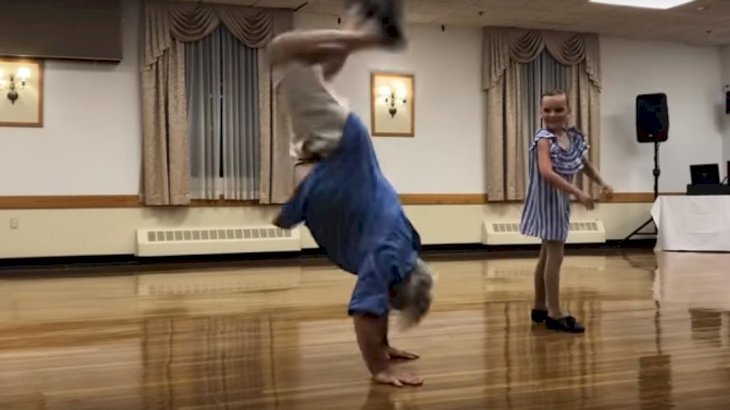 Source: YouTube/Jamie J
Rachel's day involves making sure that her grandfather has all he needs including a round of dancing. The routine has been going on for so long that she's managed to create a video compilation of her and her grandfather dancing all around the house.
The care and love she shows his shows how close they are.
Please fill in your e-mail so we can share with you our top stories!