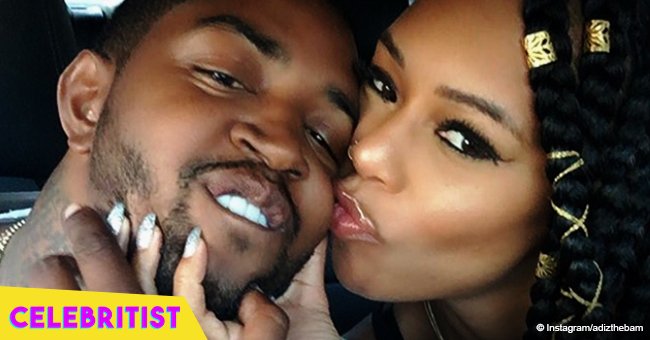 Lil Scrappy and Bambi share adorable one-week photo shoot of their son
Bambi Benson and Lil Scrappy welcomed their first son a week ago, and they're in cloud nine.
After keeping fans on edge by refusing to share the boy's face on social media, the couple has finally debuted little Breland with a series of adorable pics.
The "Love & Hip Hop: Atlanta" stars are enjoying the sweetness of parenthood, and they couldn't be happier about their baby boy.
Breland was born on September 21, and he shares the same birthday as Lil Scrappy's mom, Momma Dee, who celebrated her grandson's arrival with some fresh dance moves.
After the baby's arrival, the couple shared a few pictures in the hospital after the delivery, and one of the baby's first doctor's appointment.
Bambi shared a series of pics on Instagram of baby Breland in the middle of his first official photo shoot, and fans are losing it with the tot's cuteness.
In the first shot, there's a close-up of Breland's face, and fans found his cheeks to be his cutest feature.
In the following pics, the boy is wearing a black onesie with blue letters on it while resting on a fluffy blanket with two blocks on the side that say "1 week."
However, it seems like Breland was not very fond of having his pics taken, as he's seen crying in the middle of a tantrum in one of the images. Benson explained in the caption:
"Our lil baby had a whole fit yesterday ... we were trying to take some 1-week photos of him. I just love his lil chunky cheeks #PrinceBreland."
Enthusiast fans took over the reality star's comment section to send their blessings and compliments for the boy. One user wrote:
"He came here looking like his daddy with them cheeks! He TOO HANDSOME."
Another added, "Omg! How adorable is he! You have a handsome little guy there," and a third one said "He is beautiful! he [...] knows what he wants and not want already."
Little Breland is Bambi's and Scrappy's first son, but the rapper also shares one teenage daughter with ex-girlfriend Erica Dixon.
Emani Richardson is 13 years old and she's excited about being a big sister, as her father revealed on several occasions.
Scrappy recently penned a heartwarming message for his first-born, assuring her that despite having a new baby, he would still spoil her and take care of her unconditionally.
"Wow this is my first born who taught me how to be a parent and who's excited about her lil bro that's coming, last week having just one kid Gods blessings I can't wait to keep spoiling Emani and can't wait to spoil the second one."
The excitement that the family has for the arrival of the new baby is palpable on their social media posts, and fans are eager to follow the Richardsons' parenthood journey through their public posts.
Please fill in your e-mail so we can share with you our top stories!