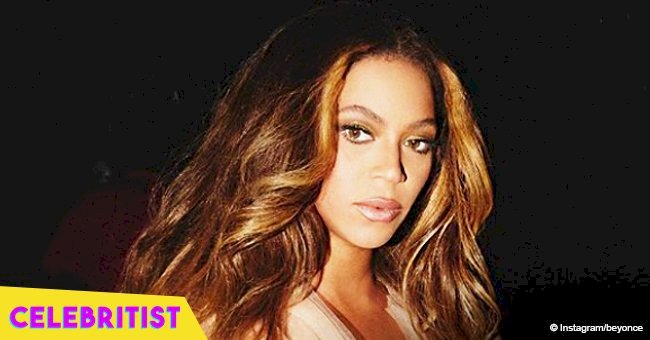 Beyoncé turns heads in leopard print leotard with matching artsy mask & thigh-high boots

Since hitting the road for "On The Run II" nearly four months ago, Beyoncé has been making one bold fashion statement after another. Last Saturday, the pop star raised the bar a notch higher with her fierce leopard-print combo.
Taking to Instagram, the "Lemonade" singer showed off the costume consisting of a leopard-print leotard attached to thigh-high boots with a pair of fasteners.
Beyoncé also donned a broad-brimmed hat that flattened out to cover her face and pulled an identical leopard-print scarf over her mouth.
"So happy to be in the Bay! 3 more shows to go!" Beyoncé wrote alongside the photo of her onstage.
The "Formation" artist debuted the unconventional outfit at her Bay Area concert on Saturday. Beyoncé and her husband, Jay Z thrilled the crowd at Levi's Stadium in Santa Clara with their electrifying performances.
The couple was said to have delivered "a show in front of 49,000 fans that still felt so intimate and personal." Queen Bey, as she's fondly called by her teeming fans, set the mood for the night with a slow, sensual dance routine in conjunction with Jay Z.
Comparing the "On The Run II" tour to 2014's "On The Run" tour, one review read:
"That wasn't the case with the first On the Run Tour show in the Bay Area — at AT&T Park in San Francisco back in August 2014 — which merely came across like two individual headlining sets spliced neatly together. The Levi's performance, on the other hand, really showed a great deal of synergy between the two legendary performers."
The concert, which saw Beyoncé and Jay Z performing hit songs like "Nice" and "Black Effect" from their collaborative album, "Everything Is Love," went beyond the city's 11 pm curfew for weekend concerts.
Meanwhile, Beyoncé's outfit sent fans into a meltdown after they realized the singer could see through a slit on her wide hat. The Shade Room posted a picture of Bey's eyes peeking through the slit, and many people said it was very creepy.
Beyoncé also played a visual illusion prank on viewers in one of the pictures where it was unsure if it was her front or her back.
"I couldn't even figure out if I was looking at her from the front or back," one viewer said.
"This is scary looking," confessed another.
Fans of the star will also recall the Versace black-and-gold bodysuit she wore at a Chicago concert. The outfit, which made headlines in August, was embellished with Swarovski crystals. Beyoncé's entire dance crew was also decked in head-to-toe Versace.
The "OTR II" Tour is expected to wrap up on October 4, and fans can't wait to see what fashion surprises Beyoncé still has in store.
Please fill in your e-mail so we can share with you our top stories!