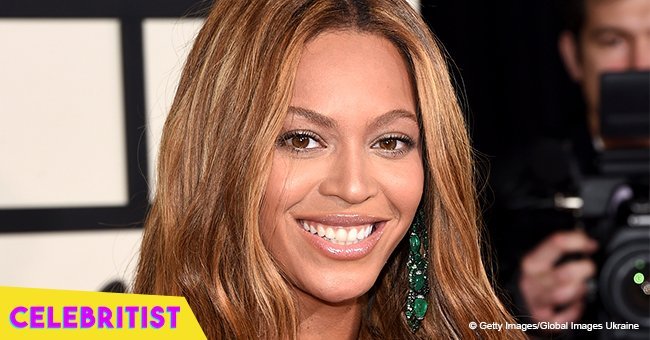 Beyonce flaunts enviable legs in head-to-toe Versace black-and-gold bodysuit at recent concert

Beyonce and her entire dance crew recently performed in head-to-toe custom-made Versace outfits during her "On The Run II" Tour with husband, Jay-Z. She looked every inch the "Queen Bey" her teeming fans fondly call her.
Sharing details of Beyonce's look via their official Twitter handle, Versace revealed that the singer's bodysuit was adorned with Swarovski crystals:
"#Beyoncé in a custom-made Barocco fully printed look with Swarovski crystal embellished bodysuit, cape jacket and Barocco thigh-high leather boots in Chicago during the On The Run 2 tour with husband Jay-Z. #VersaceCelebrities"
Her background dancers were coordinating in matching Versace bodysuits as they worked alongside Beyoncé during the Sunday concert in Chicago.
The 36-year-old "Flawless" singer has been on tour with her husband, legendary rapper, Jay Z, after taking off time to recuperate following the birth of her twins, Rumi and Sir.
Beyoncé had to have an emergency cesarean section to welcome her twins in June 2017 and revealed that her "core felt different" after the procedure.
She opened up to Vogue about how her hip-hop mogul hubby, Jay-Z helped get through the challenging period during which Rumi and Sir were in the Neonatal Intensive Care Unit (NICU):
"My husband was a soldier and such a strong support system for me."
"I am proud to have been a witness to his strength and evolution as a man, a best friend, and a father. I was in survival mode and did not grasp it all until months later."
Comparing her reaction after delivering the twins last year to when she had her first child, Blue Ivy in 2012, the songster revealed the lessons she had learned.
She confessed her obsession to snap back within only three months after the girl had been born and said that was not the case with the twins:
"I gave myself self-love and self-care, and I embraced being curvier. I accepted what my body wanted to be. After six months, I started preparing for Coachella. I became vegan temporarily, gave up coffee, alcohol, and all fruit drinks. But I was patient with myself and enjoyed my fuller curves. My kids and husband did, too."
Beyonce and Jay-Z, 48, kicked off their OTR2 tour on June 6 in Cardiff and are scheduled to round off on October 4 in Seattle.
Please fill in your e-mail so we can share with you our top stories!