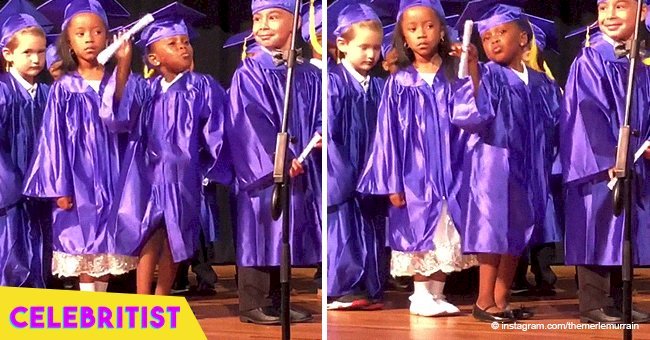 Precocious 5-year-old girl goes viral after busting out dance moves during her pre-K graduation

A 5-year-old Kindergarten graduate celebrates the moment she receives her diploma by breaking into dance on stage to the delight of the audience.
Graduations are a happy occasion and one five-year-old celebrated her diploma by busting out some moves.
Audrey Toby was waiting in line on stage after receiving her diploma when Justin Bieber's "Can't Stop the Feeling" played in the background.
Clearly feeling the moment, Aubrey started wiggling in line while waving her diploma. Her godfather, Merle Murrain, caught her act on video.
As the music played on, so did Audrey who danced her way to the end of the stage and capped her performance with a spin.
The crowd cheered throughout the 26-second clip which has now gone viral, to the surprise of her father, Malcolm Toby.
He told ABC 11: "All of a sudden, she's on the news. And Aubrey runs in — and she's like "That's me on TV. Am I star?" And I'm like "Yeah baby, you're a star." It was crazy."
According to Malcolm, Aubrey was getting bored waiting in line so she decided to entertain herself.
He knew Aubrey liked the attention and had an outgoing nature but she still surprised him.
'Utter disbelief. I wasn't prepared for it at all. Like I said, I know my child. She loves the attention, she loves just playing and things like that. But when she started walking off and the spin happened — I was't expecting that at all."
Her pre-K teacher, Charlyne Thomas, was happy to see the little girl come out of her shell.
"She's just developed. Developed being in the classroom, intermingling with her friends, and just learning and developed. She's just sprouted, like a butterfly."
Audrey's dance clip has already earned 91,000 views and more than 1,500 shares on Facebook. Watch it here and find out why.
DOING HER OWN THING
Audrey is one of several little girls who've stolen the scene on stage lately. An adorable tap dancer performing with her classmates broke from choreography to do her own thing.
She even tried to encourage one of her classmates to join her in her unstructured performance. While the rest of the dancers kept with their rehearsed steps, the little girl uninhibitedly kept on with her own energetic moves complete with hand gestures and facial expressions that made for an even more entertaining show.
LITTLE SISTER SHARING THE SPOTLIGHT WITH BIG SISTER
Meanwhile, an adorable little sister shared the spotlight with her older sister and rocked the internet with their cheerleading routine that's gone viral.
High school graduate Na'Shiyah Morris was performing her cheer routine when her little sister, Sherriyah, decided to join her towards the end.
With complete confidence, Sherriyah danced in perfect synchrony with her sister while spelling out the school's name.
They ended their impressive performance with a hug, proving the strong connection they share.
Please fill in your e-mail so we can share with you our top stories!