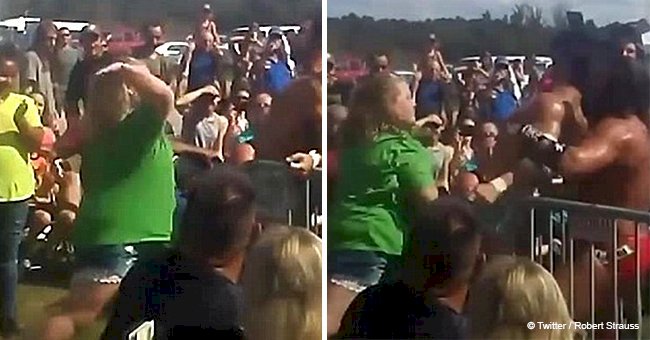 Honey Boo Boo grabs her chance to slap a wrestler's face, and the incident goes viral
Alana Thompson, a.k.a., Honey Boo Boo, joined the ranks of celebs like Arnold Schwarzenegger, Snookie, and the POTUS Donald Trump himself last Saturday.
Last Saturday, there was a professional wrestling match at the Georgia State Fair at the Atlanta Motor Speedway. The video is found below.
The 13-year-old ended up making a cameo at the event during a pit match between pro wrestler James Storm and Robbie E.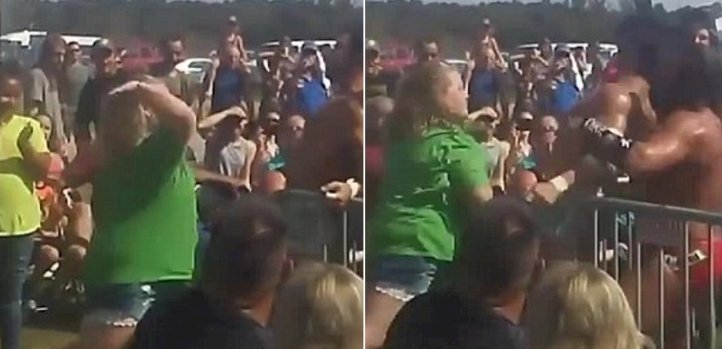 Source: Twitter/ Robert Strauss
According to the Daily Mail, the two were competing in the Atlanta-based independent promotion Universal Championship Wrestling.
Storm, the former TNA World Heavyweight Champion, was in control of the match and decided to take the action outside the ring.
He summoned the TLC star to the guardrail to impose a harsh punishment onto his opponent who he held by his locks.
The crowd chided the young reality star on and she stepped up to the plait. She gave the wrestler a brutal slap straight to the face.
Her appearance at the show is also set to be included in her family's show "Mama June: From Not to Hot."
Mother "Mama" June Shannon and sister Lauryn "Pumpkin" Shannon were also near the ring at the event. While father "Sugar Bear" was in the ring before the match.
Afterward, both pro wrestlers gave their take on social media.
Storm posted a snipper of the match on Instagram and captioned it:
"Yep even [Honey Boo Boo] gets to beat up [Robbie E] ... Such a great time today." He added: "It's always a good day when I get to just wear underwear and beat up Robbie E."
Meanwhile, Robbie E also posted a clip for which he captioned:
"Straight from a fan cam, when your deep in the heart of Georgia their [sic] is always a chance #honeybooboo (yea that one) might chop the hell out of ya... not cool [James Storm]."
Like wrestlers Stacy Keibler and Nikki Bella, Honey Boo Boo will take to the stage of ABC's "Dancing With The Star: Juniors" this fall.
Her partner will be professional junior dancer Tristan Ianiero.
In August 2018, TMZ revealed that Honey Boo Boo is set to make up to $130, 000 for doing the show, granted she makes it to the finale.
Regardless, she will make $50,000 just for her appearance.
The show will premiere on Sunday, October 7 on ABC at 8/7 c.
Please fill in your e-mail so we can share with you our top stories!