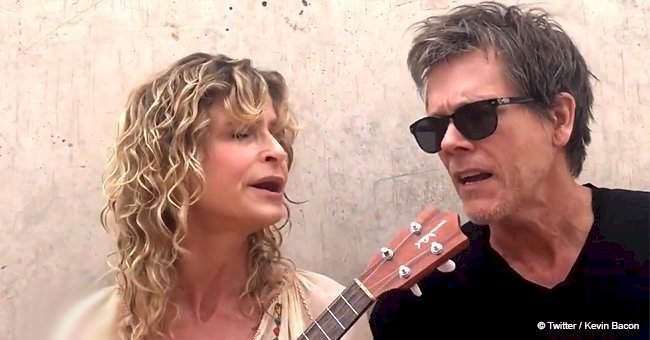 Kevin Bacon and Kyra Sedgwick sing a sweet song in honor of their 30th anniversary
Celebrity husband and wife Kevin Bacon and Kyra Sedgwick arrived at the 30th year as a married couple, and they took to social media to show the world how much in love they still are by singing a song together.
On September 4, 2018, 60-year-old actor Kevin Bacon and 53-year-old actress Kyra Sedgwick celebrated their pearl anniversary publicly stealing the hearts of their fans with a lovely performance.
The "Footloose" star shared a video of him and his wife covering the BeeGees's 1967 song "To Love Somebody" on both his Twitter and Instagram accounts to commemorate the milestone of their relationship.
Sedgwick played the ukulele while the two harmonized their voices in a beautiful way as they delivered the well-known love song. Read more on our Twitter account @amomama_usa
These days, it is very uncommon to see married couples stay together for so long, and the fact that this is a Hollywood marriage makes it all rarer, so they certainly are a source of inspiration to lovers everywhere.
"30 years with this amazing woman. She is the music in my life," Bacon captioned the video. Several of his followers in social media send messages to congratulate them and sharing their own long marriages stories.
"What a powerful reminder and much-needed example and ray of light of the raw power of genuine love and appreciation. Thank you."
-@BrunoStLaurent, Twitter, September 6, 2018.
"We will celebrate 30 years in April... amazingly wonderful, isn't it? I love him more today than 30 years ago and I wouldn't have thought that was possible. Congratulations to you BOTH on your commitment to love," wrote Ali Blaylock.
The "X-Men" actor also shared a photo of a smiling Sedgwick with a beautiful desert landscape as a background, mentioning her in the caption and adding "I Love this person."
In turn, Sedgwick published a photo of the two hugging and smiling to the camera in the same spot, where the two apparently traveled to in a romantic getaway to honor the occasion. "30 years (yesterday) Lucky Lady," she wrote.
As E! Online reported, TV hosts and interviewers often ask the couple about some piece of advice about making a relationship last for decades and keeping the romance alive, and they have both eluded the question in a similar way.
"Whatever you do, don't listen to celebrities on advice on how to stay married. That's my secret," Bacon cleverly told Entertainment Tonight in 2015, while Sedgwick told Piers Morgan in 2012: "the secret to a happy marriage is not to take advice from celebrities about marriage."
They might have agreed to say something like this when asked the question, to avoid entering into details. But maybe they really want to point out that there is no fixed formula for a happy marriage, and every couple needs to maintain a good communication to figure out what works for them.
It is certainly not what we are used to hearing about celebrity marriages, but there are a number of examples that prove that a lasting Hollywood couple is possible, beyond Bacon and Sedgwick.
Six months before Bacon and Sedgwick, 62-year-old beloved actor Tom Hanks and 61-year-old actress Rita Wilson also commemorated their pearl anniversary, and the loving wife had an original and adorable way of showing how happy this made her.
The "Forrest Gump" star has said that he still cannot believes that this amazing woman fell from him, and just like Bacon and Sedgwick, Hanks claims that there is no special secret that makes his marriage to Wilson go so well.
Please fill in your e-mail so we can share with you our top stories!