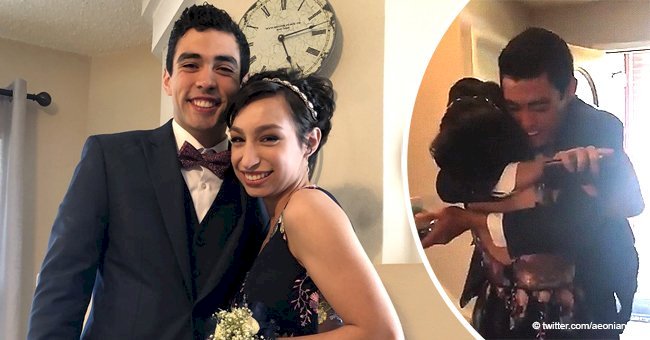 Teen surprises prom date by walking for first time in 10 months
Prom night turned out to be a more memorable night than two students could ever imagine when the woman surprised her date by walking for the first time in ten months.
A teen named Morgan Coultress from San Antonio, Texas had been on a wheelchair for 10 months when she decided to surprise her prom date, Tarik Garcia, by walking towards him when he picked her up.
Morgan had what was called a conversion disorder which she acquired after undergoing an operation. For almost a year, she was wheelchair-bound only to realize before prom that she could walk again.
To make her prom extra special, Morgan decided to reveal her recovery to her date that night and the heartwarming moment was captured on a video which has now gone viral with 8 million views in 24 hours.
In the clip, Morgan is seen standing in the hallway watching the suit-clad Tarik at the door. When he sees her, she slowly walks toward him as Tarik shrieks in shock. It takes a moment for Tarik to process what was happening before he rushes to Morgan to hug her.
"Oh my God!, How did you do that?!", he asks.
Morgan posted the video on Twitter and described the moment to her followers.
"After not being able to walk with my own two legs for 10 months…I surprised my prom date with this."
She later posted clips from her prom night revealing her tender moments with Tarik, who she calls "one of her best supporters."
But that's not all, as Morgan surprised her friends at the prom by being able to walk again, they surprised her by hailing her Prom Queen.
Morgan's prom certainly goes down in history as one of the most memorable proms in teenage history with the most pleasant surprises. Much like a teen who got pregnant at 13 and decided to surprise the people at her prom by showing up with her two-year-old. Kayleigh Snaith wanted to share her princess moment with her daughter so she garbed her in a sweet little white lace dress with a matching bow on her hair. The young mother bravely arrived at the prom proud of her daughter. Kayleigh received a lot of hate when she got pregnant and this was her way of clapping back at her critics, proving that having a daughter was the best thing that happened to her despite having to finish school.
Meanwhile, another teen decided to stage a different kind of grand entrance at her prom. 16-year-old Chloe Robinson who'd been bullied in school since she was seven decided to make a statement by arriving in her prom escorted by an entourage courtesy of Bikers Against Bullies. 150 bikers from the organization joined Chloe in her grand entrance boosting her confidence when she needed it most.
Please fill in your e-mail so we can share with you our top stories!