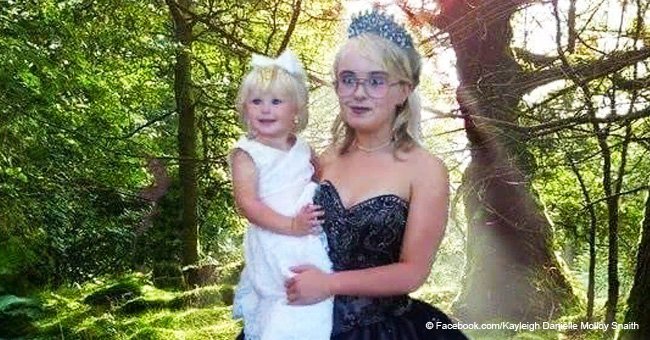 Teen who fell pregnant at 13 silenced 'haters' by taking 2-year-old daughter to prom
She faced plenty of backlash when she fell pregnant at such a young age, but despite the challenges she has faced, she has done everything she can for her young daughter.
Kayleigh Danielle Molloy Snaith of Stanley, Co Durhan, was just 13 years old when she fell pregnant. For six months, she hid her pregnancy, terrified of what her parents might do when they found out.
According to Daily Mail via Mercury Press, her parents decided to support her in whatever she wanted to do. Kayleigh was 14 years old when she gave birth to a baby girl, Harley.
During her pregnancy, Kayleigh faced the cruelty of the students at her school, who sneered at her, called her disgusting, and laughed that she would never finish high school because of what she had done.
Kayleigh is now 16 years old, and her little girl is 2. And despite having a baby girl at home, the teenager has continued to attend school thanks to the help of her parents, Sharon Snaith, 48, and Tommy Snaith, 53.
When it came time for Kayleigh to attend her prom, she decided that she wanted to take Harley with. Although the tot wouldn't be able to actually attend the party, Kayleigh wanted her to feel special too.
She bought her dauhgter a sweet little white lace dress for the occasion, and did her hair up with a matching bow in it. The mother-daughter duo then took prom photos together, and Harley accompanied her mother to the prom in the car
"I wanted to take Harley to my prom and get her all dressed up to show her that she is a princess in my eyes - and always will be. I hope she grows up knowing that she deserves the best and never to settle for anything or anyone that makes her unhappy. She should be treated with love and care," Kayleigh said.
Aside from wanting to make her daughter feel special, Kayleigh also wanted to use the opportunity to clap back at the students at her school who had been so hateful towards her during her pregnancy.
"I also wanted to show everyone else who thought I would never make it through school being a young mum that I did it. Here I am celebrating finishing school with my daughter," she explained.
Kayleigh and Harley looked absolutely stunning, and it's wonderful to see her finish school, but the young mom is the first to admit that it hasn't been an easy ride for her.
"It hasn't been easy. When Harley was a newborn I would be up through the night with her, sometimes for two or three hours if she didn't settle, and then I would go to school. At home I'm a mother and an adult to my child but then in school I was suddenly a student, a child there to learn," she said. "I was so tired all the time and I would have people telling me I was disgusting, that I'd ruined my life, I'd never be a good mum and I'd never achieve anything in life. It was really hard.Getting through my GCSEs was tough. I was terrified that I wouldn't be able to do it while raising Harley."
While the exhaustion threatened to settle in on a daily basis, Kayleigh's biggest motivation was showing her daughter she could do anything, and being able to build a life and a future for the two of them.
Kayleigh has been accepted to study music at a college come September.
Please fill in your e-mail so we can share with you our top stories!