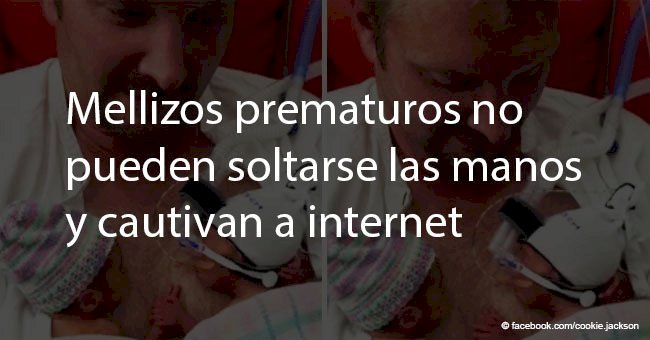 Premature twins can't let each other's hands go and take the internet by storm
Their mother captured the emotional moment the babies shared with their father on video. The twin siblings were born in Australia 28 weeks and one day old, and weigh less than one kilo each.
Anthea Jackson-Rushford, mother of the babies Kristian and Kristiana, shared the moment in which her husband loads the twins and to the surprise of both, they hold hands, and Inside Edition featured it in their YouTube channel on January 2016.
Giving birth to so premature babies is very risky, and the chances of losing one or both of the children are high, so when the brother and sister made the adorable gesture it was an emotional and meaningful sight.
"Amazing! Needs to go viral!" the mother captioned the heart-melting clip, and the users of social media made her wish come true.
Jackson's Facebook video of the tiny newborns resting on their father's chest and holding hands became an instant viral sensation, and it went on to receive 15 million views. Read more on our Twitter account @amomama_usa
"It's like he's going…'I've got you,'" the mother and the father can be heard commenting as they can barely believe what they are seeing. It is no surprise that they wanted the entire world to see it.
Many people would try to give this incident little importance, considering the gesture a mere reflex. But after the video grew to be so popular, the parents continued posting images of the babies holding hands as days passed.
"Both my angels holding hands again as if they were born to! Amazing sight!"
-Anthea Jackson-Rushford, Facebook, 2016.
Many users commented about the strong connection the two struggling babies showed. "Absolutely beautiful guys such a special bond there," wrote Richard Storer.
Judelyne Phillips Al Kabt added: "That is so Cute. It like. We're in this Together. We will keep each other Going. Bliss."
Twin siblings usually share a kind of intimate bond that is hard to understand for non-twins, but we have all sense it when we spend time with them, even when the twins are adults.
It makes sense that two lives that develop together and spent the duration of the pregnancy so close to one another have trouble understanding that they are two organisms that will lead individual lives.
At least that is the feeling one has when seeing another pair of twins who cry hysterically every time they are separated and immediately stop crying when they rejoin.
Dany Lyman, the father of these two inseparable brothers, caught the lovely incident on video and it went viral in no time, viewed by hundreds of thousands of people online.
Please fill in your e-mail so we can share with you our top stories!