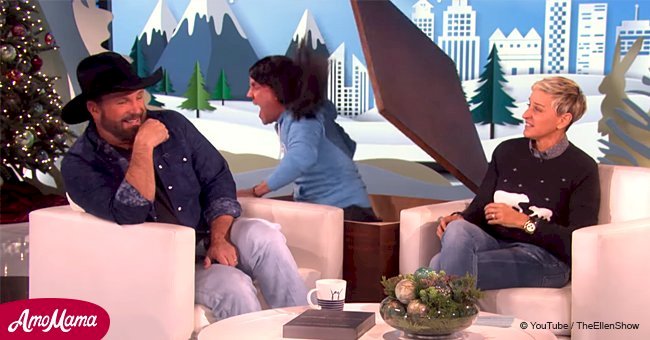 Ellen Degeneres tries to scare Garth Brooks, but his reaction wasn't what she expected
Garth Brooks became one of the rare guests on "The Ellen DeGeneres Show" for whom the scare-prank didn't go the way the famous talk show host actually planned.
In the episode uploaded to YouTube, Ellen DeGeneres invites iconic country star Brooks on the show to talk about the release of his recent musical anthology.
As DeGeneres likes to do with most of her star guests, a meticulously planned scare-prank was readied for Brooks.
The interview progressed with DeGeneres talking about Brooks winning CMA for the entertainer of the year for the sixth time.
Follow us on Twitter to learn more.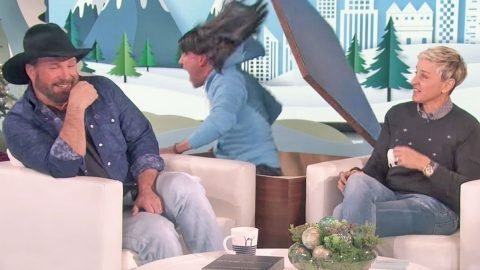 Source: YouTube/The Ellen Show
Brooks then joked that what he liked about the fact that he won the award was that he was older than the four other nominees combined. DeGeneres then chatted about the release of the part one of Brooks' anthology titled, "The First Five Years."
During their chat, Brooks also talked about how he valued his fans and their emotions more than anything else because they are the who pay big money and put up with a lot of trouble to watch and listen him perform.
Previously in 2017, Brooks proved this love for his fans by stopping his performance mid-way and addressing a sign among the audience from a bride-to-be who had postponed her wedding to be at his concert.
The interview on the Ellen Show then finally turned toward a previous scare-prank which was played by Brooks on one of the producers of the show. When she asked Brooks if he liked playing the prank, the country star explained that he had a "blast" while doing it.
Then it was finally time for DeGeneres's big scare-prank on Brooks. While she was speaking about the earlier prank, someone jumped out of a box kept next to him.
Somehow, it wasn't the least bit scary for the country star. In fact, when the person trying to scare him tried to rush off the stage, he tripped on the box and fell inducing even more laughter from Brooks and the audience alike.
"First of all, that was the worst scare we've ever done," DeGeneres said, trying to suppress her laughter. "It didn't work in any way. That was pathetic."

Source: YouTube/The Ellen Show
DeGeneres's scare-prank might have gone wrong this time around, but she was quite successful at it when another country star, Carrie Underwood, previously stopped by for an interview.
In the September 2016 episode, Underwood screamed with fright during the chat when a man popped out of the box dressed like Underwood's athlete husband, Mike Fisher.
Please fill in your e-mail so we can share with you our top stories!