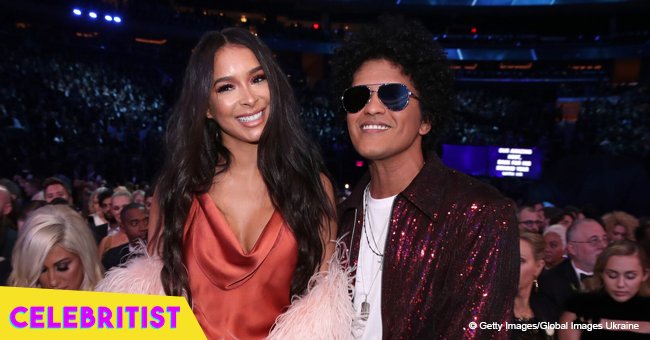 Bruno Mars' longtime girlfriend shares rare picture with her look-alike parents
Bruno Mars' longtime girlfriend, Jessica Caban, shares a sweet photo with her parents. Given that she rarely shares information about them on social media, the resemblance she shares with the both of them is striking.
Bruno Mars and Jessica Caban have been together for years, and yet they have remained extremely lowkey about their relationship. At times, people even wonder if the singer is actually in a relationship, because he rarely posts about it on social media.
However, despite the lack of updates on their part, his relationship with Jessica Caban has been going strong, who is a family-oriented beauty queen and model.
Recently, she proved the tight-knit relationship she has with her parents by sharing a sweet photo of her and the two of them. In the photo, she made sure to greet her dad a happy birthday, sharing with her fans the most wonderful things about him.
Sharing an interesting story about how she thought her dad was a vampire because of his two front teeth, it turns out that as she grew older, she began to realize that her dad was actually going to school in the daytime and heading to the hospital at night to provide for their family.
" He was the first person to ever instill by example what being a man of your word was and how important it is. To work hard!to be kind! To love with all your heart and how to smile through our struggles. Every promise he has made he has kept."
The sweet girl had nothing but kind words to say about her hardworking dad, saying that he is a respectable man.
It is this wonderful man that has set the bar quite high when it comes to the men that Jessica welcomes into his life, and of course, there is no one better to be with but the man who sings the most popular love songs in the world today.
Bruno and Jessica have been together since 2011, and although they've been extremely private about everything, they've been seen out a couple of times, especially during awards shows where the singer brings Caban as his plus one.
Through it all, the pair has remained strong and we feel it is only a couple of time until they tie the knot. After all, it is her that Bruno's hit song "Marry You" is dedicated to.
Please fill in your e-mail so we can share with you our top stories!