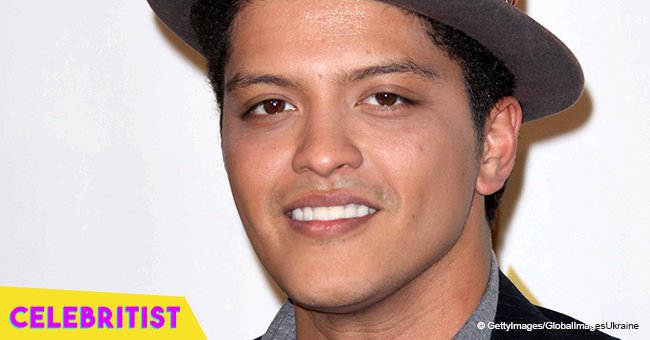 Bruno Mars flaunts healthy physique, shows off beer gut while on vacation with longtime girlfriend
Bruno Mars surprised fans flaunting a beer belly in recent photos taken on his vacation trip to Mexico, as he takes a break from the "24k Tour." His longtime girlfriend, Jessica Caban, looked stunning.
The Award-winning songwriter is looking healthier these days, and he's not ashamed of showing off his fuller body while having a well-deserved rest at the beach. Mars was spotted having fun on the water at Punta Mita, Mexico, with friends and his beautiful model girlfriend, as reported by the Daily Mail.
Caban, a model, and entrepreneur, was wearing a one-piece black and yellow animal printed swimsuit that put her toned midriff and legs on display.
Mars was rocking a pair of multicolored swimming shorts and sunglasses. He also swung a brimmed hat before getting his hair braided. However, most fans and trolls on the internet decided to focus their attention on the fact that the singer has gained some weight in the past months.
However, Mars looked confident in his body, as it should be. Body shamming celebrities has become a hobby for netizens now, and people were fast to call out Mars for allegedly setting an "unhealthy" example for young men.
Fans of the singer came to his defense, calling out people for their nasty comments and sending lovely messages of support for the singer, stating that he has become successful making emphasis on his talent and not his looks for a reason.
Read some of the tweets below:
MARS' AND CABAN'S RELATIONSHIP
Some people are still surprised to learn that the "Lazy Song" singer is taken, and that's because he and Caban like to keep their relationship as far away from the spotlight as possible. The couple has been dating since 2011, but they have few public appearances and rarely appear on each other's social media accounts.
According to reports, the singer met Jessica in New York while eating at the Co-op restaurant in New York's Hotel on Rivington. Jessica, a New York resident, was chatting with her friends when she caught the attention of the singer.
Mars couldn't contain his interest and approached Jessica. Soon after, they started dating, and while they had some bumps on their relationship, from which Bruno's heart-wrenching ballad "When I Was Your Man" was born, they have made it a long way.
NO WEDDING BELLS FOR THE COUPLE
However, there are no wedding plans on sight for the couple. Two years ago, in an interview with Rolling Stone magazine, Mars was put on the spot and asked if he was going to marry Caban. He said:
"Jesus! She's my best friend. My rock. What's wrong with that? We're just happy."
Caban, who lives with Bruno in a reportedly $6.5 million mansion, seems to be happy with the arrangement. She's living her best life, traveling around the world, taking beautiful pictures and promoting her swimwear line called J. Marie, which she designs.
The stunning woman recently let fans know she's planning on staying with Bruno for a long time, as she shared a cute picture of the couple kissing on Instagram and captioned it:
"Can't wait to replicate this photo when we're old my love."
Mars goes back to his tour on September 7 on Denver. The 32-year-old has been traveling around the world with the tour since it started back in March in Belgium. The tour is set to conclude on November 11, 2018, in Honolulu, Hawaii.
Please fill in your e-mail so we can share with you our top stories!