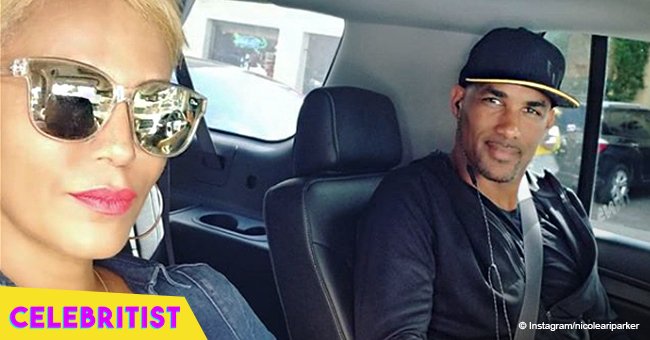 Nicole Ari Parker shares photos from sweet date with beautiful, growing daughter
Nicole Ari Parker and Boris Kodjoe's eldest daughter is now a gorgeous teenager, and she seems to have an interest in the arts, as shown in recent photos shared by Parker. The mother-daughter duo visited a new art exhibition in Chicago, days after they attended a charity event together.
Sophie Kodjoe is a 13-year-old beautiful girl who looks like the perfect mix between her famous parents. The teenager, who prefers to stay away from social media, is often featured on her mom's Instagram account, and in pics from their recent girls' day out, she showed her interests for the arts.
Nicole and Sophie attended the Annual Art Show at ExpoChicago on Monday, and they looked stylish for the occasion. Sophie rocked a beige long-shirt with ripped jeans and a fluffy coat on top, and she completed the look with black ankle boots, a black purse and her long braided hair falling down her back.
Ari Parker, on the other hand, went for a white blouse, jeans, and a long black coat. She accessorized with a colorful silk scarf and black shoes.
SOPHIE'S INTEREST FOR THE PAINTINGS
The pair made their way through the exhibition taking their time to absorb every piece of art in depth. Nicole captured her daughter standing in front of several paintings, quietly taking in the work and inspiration that they transmitted.
"Soph&Me at the annual Art Show @EXPOCHICAGO at #NavyPier #incredible #moving #inspiring Sooo much to take in...Large magical install made from #aluminum&copperwire from Ghanaian artist," Parker captioned the series of pictures and proceeded to name each of the pieces and the artists featured on her post.
Fans took over her comment section to gush about Sophie and how much she has grown and also to praise Nicole for instilling the love for art on her daughter. One user wrote:
"Beautiful artwork. Love them all. Thanks for sharing. Wonderful experience for your daughter as well I'm sure she enjoyed."
Another added,
"Wow! Really incredible. Each piece is unique. I like the variety of mediums. What an experience for your daughter. Good job Mom. Thanks for sharing."
And a third one said:
"Welcome to Chicago! My hometown! You and Sophie look like you always do...BEAUTIFUL!!"
SOPHIE'S FOUNDATION
Just a few days ago, Nicole and Sophie attended another event, this time in California, to support fellow actress Taraji P. Henson, as she organized a fundraiser to launch the "Boris Lawrence Henson Foundation" in honor of her father, an organization dedicated to helping young people struggling with mental illnesses nationwide.
Like Taraji's father, Sophie also has a foundation under her name, the Sophie's Voice Foundation.
When Sophie was born, she was diagnosed with spina bifida, a congenital disability that occurs when the spine and spinal cord don't form properly. She was still a toddler when her parents set up the foundation to raise funds to support research on the condition, and these days they're great advocates for the Global Health and Wellness Initiative in multicultural communities.
SOPHIE'S ENCOURAGEMENT
Speaking about his daughter's condition, Boris Kodjoe told Exhale a few years ago that they were devastated when they found out, and they went from being the "perfect Hollywood couple" to being completely helpless and lost.
But it was little Sophie who pushed them through:
"Sophie was actually instrumental in teaching us how to do that. Her spirit, her attitude was always, she was this little baby who was always smiling, and she looked at us like, 'Why are you crying?'" he confessed.
"So we figured, okay, this is what it is. This is our norm. She doesn't know any different, and it's up to us to prepare her and equip her for this life that's hers and make sure that she has all options and all opportunities that anyone else would have."
These days, Sophie leads the life like an average teenager, getting her hair dyed with blue and enjoying fun days out with her parents whenever she can. She also interrupts her parents in the sauna, taking pictures at the most inappropriate times.
Nicole and Boris celebrated 13 years of marriage a few months ago, and they're still as in love as ever.
Please fill in your e-mail so we can share with you our top stories!