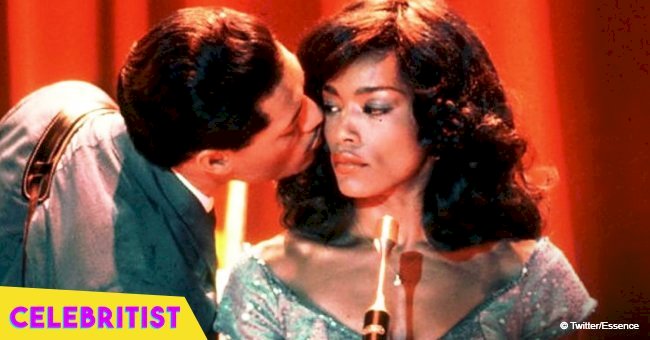 Remembering Angela Bassett performing 'A Fool In Love' in 'What's Love Got to Do with It'
Actress Angela Bassett was a talented artist even before portraying Tina Turner in her biopic "What's Love Got to Do with It." That role catapulted her career, though.
Thanks to her outstanding performance, she got a Golden Globe Award, several nominations to other accolades, and she positioned herself as a versatile and impressive actress.
While people considered that all her scenes were outstanding, one of them captured everybody's attention: her performance of Tina Turner's hit song "Fool in Love."
In the YouTube video of the presentation, Angela appeared in front of the microphone when Ike Turner, played by Lawrence Fishbourne, slowly approached and kissed her in the cheek.
COPYING TINA
After that, she started singing her heart out, and tears began coming down her face. Her entire performance was brilliant, basically because Angela copied most of the things that Tina used to do during her performances.
Several people considered that the Oscar should have gone to Angela after her presentation, especially after watching her performance of "Fool in Love."
HER THOUGHTS ON THE "STEALING"
During a recent interview Angela had on "Watch What Happens Live" with Andy Cohen, the host read one of the comments from her fans that stated that she was robbed in the 1994 edition of the Academy Awards.
The recognition went to Holly Hunter from her role in "The Piano" and even though she did a great job, Angela pointed out that she felt robbed, indeed. Andy revealed that he felt the same.
TINA'S "WHAT'S LOVE GOT TO DO WITH IT"
Even though Tina positioned several songs on the top of several charts, "What's Love Got to Do with It" became her most successful single, which is why the film's director, Brian Gibson, chose that name for the biopic.
NEW YORK TIMES MISTAKING ANGELA FOR OMAROSA MANIGAULT NEWMAN
During the 70th Annual Emmy Awards, "The Marvelous Mrs. Maisel" star Rachel Brosnahan accepted the "Best Actress in a Comedy" award from presenters Tiffany Haddish and Angela.
However, in the New York Times's article, Bassett was identified as former President Donald Trump staffer Omarosa Manigault Newman.
The paper blamed the embarrassing mistake on a wire service but promised that a proper correction would be made in their next publication.
Please fill in your e-mail so we can share with you our top stories!