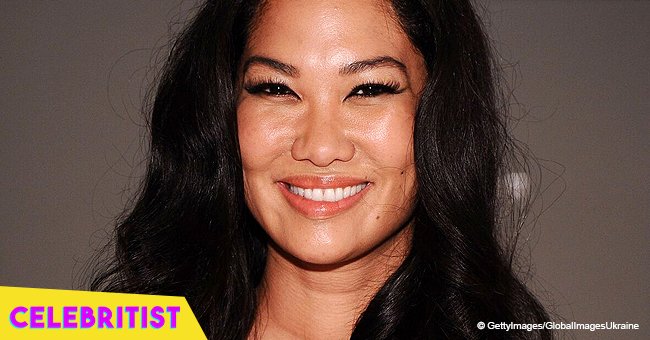 Kimora Lee Simmons stuns in black mini dress and high heels
Kimora Lee Simmons showcases her toned legs in a black mini-dress months after earning a college degree.
She just earned a college degree in June, and Kimora Simmons looked anything but collegiate in her latest look on Instagram. The 43-year-old former model was dressed to impress for a Friday night outing and she was easily a stunner.
"It's been a whirlwind," Kimora says of her late-in-life college degree she attained at the University of Hartford in Connecticut. She said she had breakdowns while tackling her online courses but was grateful for the help of her daughters, Ming Lee, 18 and Aoki, 15 who would assist her in formatting her papers. Kimora says earning a college degree was something she had to do for herself so she overcame the challenge even if it meant stealing the thunder from Ming Lee who graduated from high school at the same time Kimora graduated from college in June.
Now equipped with greater confidence, Kimora is stepping out into the world a renewed woman inspiring others that it's never too late to go to school. However, her latest outing sways us from that thought. Her black mini dress with a cape matched with green strappy stilettos just makes us want to think about having a good time. That's probably what Kimora had in mind too, and donuts, according to the caption that accompanied her photo.
"Friday night.... #kls oh and I like donuts! That's all I think about!"
Earlier in the year, Kimora had something more serious in mind. She addressed the sexual misconduct allegations hurled against her former husband, Russell Simmons. The 60-year-old was accused of crimes of assault and rape by 11 women including a model, a fashion publicist, and a writer.
Kimora posted a statement defending Simmons who she had known for over 25 years and she considers a close friend apart from being her ex-husband and close friend. She said,
"These allegations against him are nothing like the person I have known in all that time. I have known him to be a caring and supporting father and someone who has worked tirelessly to uplift disenfranchised communities."
Simmons likewise denied the allegations in a separate statement and said he looked forward "to having my day in court."
Meanwhile, Kimora also took a defensive stance in October when she clapped back at her daughter Ming Lee's critics who insinuated that she had her lips surgically enhanced. The suspicions were posted in response to a photo the 18-year-old shared where she highlights her pouty lips with dark red lipstick.
To silence those who assumed her daughter's lips weren't real and were due to lip fillers, Kimora wrote,
"@razorlightfresh ming is 18. Those are au naturel! Since she was a baby! Mama don't play that!"
If there's one thing we learned from this article, it's that Kimora clearly rocks as a supermodel, a college graduate, an ex-wife and a mother.
Please fill in your e-mail so we can share with you our top stories!