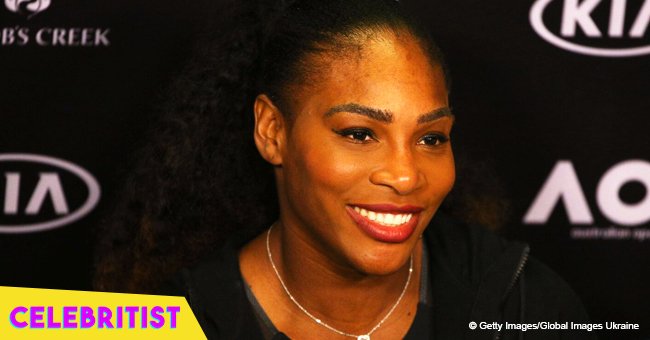 Serena Williams' daughter, 1, flaunts her thick hair while rocking purple outfit & sparkly shoes
At 1-year-old, Alexis Olympia Ohanian is already an aspiring fashionista thanks to her mom's outfit choices, but while is Serena who chooses her daughter's looks, the diva attitude is all Olympia. She knows how to rock her favorite pieces of clothing, like the sparkly shoes she donned in a recent pic.
Little Olympia has become one of the most loved celebrity babies in the industry, and like many other stars, she has an Instagram account, managed by her parents of course. Serena Williams and her husband Alexis Ohanian are continually sharing cute pics of their baby girl, melting hearts all over social media with them.
One of the most recent photos shared to Olympia's account, shows the girl rocking a purple onesie, grey polka-dotted socks and silver sparkly tennis shoes with zippers on the side. Olympia was caught sitting on a sofa and staring directly at the camera with an adorable expression in place.
Her thick curly hair stands out in the picture, as many people find adorable that she looks like her mom's twin from head to toe. "I have shoes that sparkle," her parents captioned the picture.
A few days later, Serena shared a pic of her daughter walking around the hallways while supporting herself on a floral printed wall. Olympia donned a white top, a sparkly tutu skirt, thighs, and her loved silver shoes. She was walking around with a curious expression on her face and a tennis ball in one hand.
Her outfit resembles the ones her mother used through the U.S Open, created by Louis Vuitton creative director and Off-White chief executive Virgil Abloh. The tournament turned out to leave a sour taste on Serena's and her fans' mouths after she lost the title in a controversial final game against Naomi Osaka.
THE BIGGEST SUPPORT AFTER THE CONTROVERSY
Williams sparked controversy when, in the middle of one set, the chair umpire penalized her with one point for allegedly getting coaching from the sidelines. Serena called him a liar and demanded an apology, and when the referee removed another point, she crossed a line by calling him a "thief."
In the end, she was penalized with an entire game, causing a tense atmosphere at the tennis court, and making Osaka's first ever U.S Open victory a memorable one but not for the right reasons.
Afterward, Serena didn't address the game or the $17k fine she received for her faults, but she took to social media to let her followers know she was fine while taking a break with her daughter in arms. Even though Olympia can't speak yet, the girl must have sensed her mom's distraught.
A few days ago, Serena revealed on a "No Filter" podcast recorded three days after the U.S Final, what Olympia did to comfort her, saying:
"I got in the car, and Olympia was in the car. It was so weird, and she started giving me kisses, she never gives me kisses. She doesn't even know to give kisses, and she just grabbed me, and I was like this little baby is so smart. It's just hard to be too down when you have a little one… when you have someone to take care of."
THE BIGGEST CHALLENGE
For Serena, a 23-time s Grand Slam champion, balancing her work with motherhood has been a hard, but not impossible task. The 36-year-old has been honest from the beginning about her struggles after birth, when she almost lost her life, and through the first months of life of her baby.
Training and exercising to be in form for the competitions means Williams has to leave her daughter for a few hours, and she didn't cope so well with it for a while. A few months ago, a mortified Serena took to Twitter to share that she had missed Olympia's first steps and felt terrible about it.
Luckily for her, other parents came forward to share similar stories, telling the tennis star that it was another part of parenthood. "I didn't realize that it's almost more normal to miss it than it is to make it," she explained in an interview with NBC.
"So I really kind of rely on everyone's help out there. It's been so, so amazing."
Please fill in your e-mail so we can share with you our top stories!