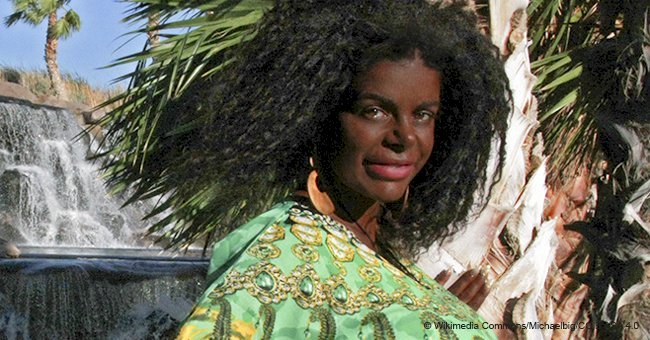 White woman who turned herself 'black' with tanning injections wants an 'African nose'
A German model asked doctors to turn her into a "black woman", and was given tanning injections. However, she wanted more than just black skin, even asking doctors to give her an "African nose" to match her new color.
Martina Big, 45, is a German model who previously spent more than $65,000 on breast enhancements, and has a record-breaking size of 32S on her chest, making it the biggest in Europe.
After undergoing tanning injections, she also had her eye and hair color changed. However, the model was still not content and went back to her doctors, Terry Dubrow and Paul Nassif, to alter her nose right after they denied giving her butt implants.
On the "Botched" season finale where she appeared, she said she is proud of how everything turned out for her, even embracing her "blackness" in full force by buying a wig with big black curls.
Martina also revealed that she has been routinely getting lip injections done, to keep up with her new "African style".
When she visited her doctors with her darker skin tone and a dark wig, the look startled Dr. Nassif, 56, who had to ask if it was real. As she explained that she needed a new nose to go with her look, the surgeons looked even more shocked.
Big previously appeared on "Botched" season 4 asking for butt implants, but the doctors denied this as they felt it would have some severe consequences for her body.
As for her current request, the doctors were very hesitant because they were afraid that this desire for her to turn black is just another phase. However, Martina said:
"I don't think I'm going to wake up and go, "Oh no, I need to go back very soon". Nope. I'm going to stay black."
The doctors were still not convinced, and they said it wouldn't be responsible for them to give her the new nose she wants.
"I really want Martina to wait before she makes a decision like this because, one thing, we don't know how long this crazy experiment is going to last."
In the end, the doctors recommended for her to live with her new skin for a couple of years until she's sure that she wants to have the alterations she is asking for now.
Please fill in your e-mail so we can share with you our top stories!