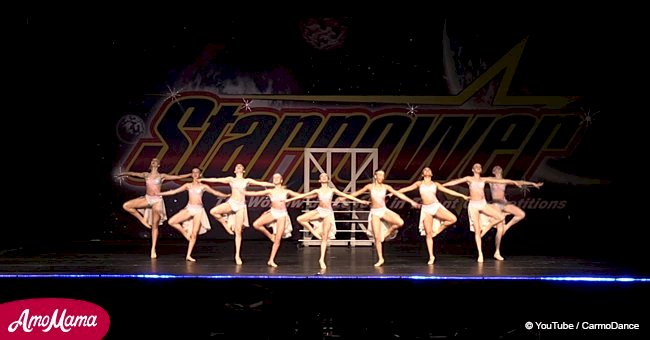 Breathtaking ballet performance captivated the audience with every dance step

Wanting to inspire the audience, ballet dancers astonish the audience performing to Rachel Platten's hit 'Fight Song.'
The dancers of Company E, Burlington, comprise a group of dancers dedicating their lives to the art of ballet, aiming to stand out and inspire during their competition performance they did a choreographed routine to 'Fight Song' hoping the powerful words of the song and their routine would make a difference.
Read more on our Twitter account @amomama_usa.
Source: YouTube/#dancersburl4acure
Rachel Platten spoke about why the song meant so much to her and said:
"When I wrote 'Fight Song,' I was in a particular low point. I needed to remind myself to not give up, that I still believed in myself and that I still had fight left. I didn't intend to write ['Fight Song'], you know, for the world to hear to be honest. I wrote it because I needed it. And I wrote it because I needed that reminder and I needed hope. And maybe there was this tiny place in my heart that I believed this could still happen. And the fact that it did is crazy."The performance by the Company E dancers moved the audience with their routine rendering them speechless and deservingly took first place in the competition."
Source: YouTube/#dancersburl4acure
Ballet, like any other form of dance, can be a powerful tool in delivering a message and sharing traditions. The National Georgian Ballet where traditional Russian ballet and Georgian dance come together aim to do just that. Dancefloor Geneva recently posted a 'warm-up' routine on Facebook, with over 2.5 million views and counting.
Source: YouTube/#dancersburl4acure
Their routines inspire with its vitality and originality captivating audiences with their impeccable technique and diversity, much like the ladies from another group, Dance Force Extreme. The performance was unusual as they choreographed a routine to a word poem entitled, 'To This Day' by Shane Kaycezone.
They wore nude leotards with the words 'ugly' and 'weak' scribbled on the fabric resulting in a powerful deliverance of an anti-bullying message. The amazing routine got posted on YouTube in August 2015.
Please fill in your e-mail so we can share with you our top stories!