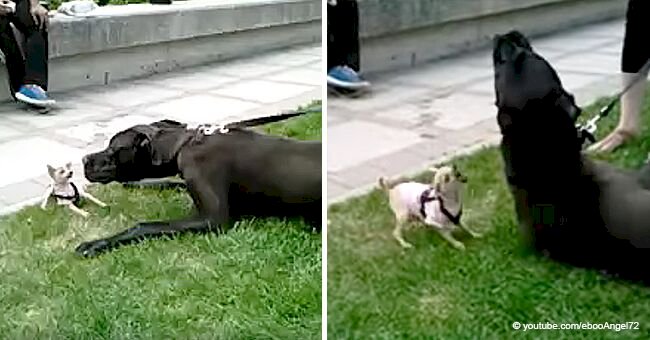 Cheeky chihuahua tries her best to fight a Great Dane in this hilarious video

This fight looks like a modern version of David and Goliath, and luckily for little Lilly, Vago is a very friendly giant.
According to Inspire More, in one corner of the boxing ring we have the smallest dog in the world, Lilly, a 12-week-old Chihuahua whose tiny body is inhabited by a fierce warrior spirit.
In the other corner, we have the biggest dog in the world, Vago, a Great Dane who knows he should not fight with girls, especially the size of Lilly. He also has his human close by watching him in case he forgets that when it comes to size, he has the advantage.
As can be seen in the Youtube video, there they are, just hanging out at a dog park in Winnipeg, Manitoba, when Vago extends a leg to little Lilly. But she is alert, and what a friendly gesture meant, triggers her fighting instinct.
She stands up like a spring and begins to bounce around her opponent, but stays away from the hitting distance. Read more on our Twitter account @amomama_usa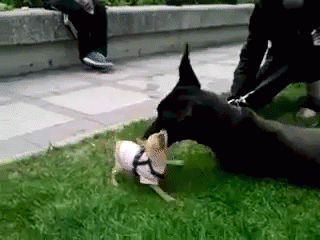 Source: Giphy
The only time she gets close, all Vago has to do is throw her head down and Lilly rolls back. But the chihuahua is a warrior.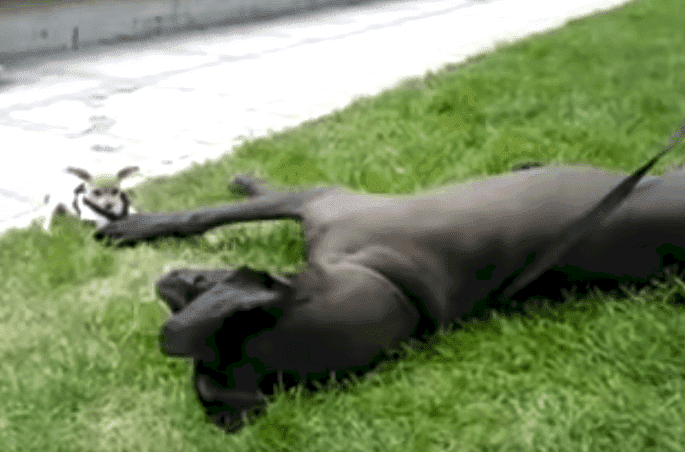 Source: Youtube/ebooAngel72
She struggles to stand up and leans on her hind legs to make herself look as big and intimidating as possible. The adorable Vago has the decency to turn his head so he doesn't see him laughing at her.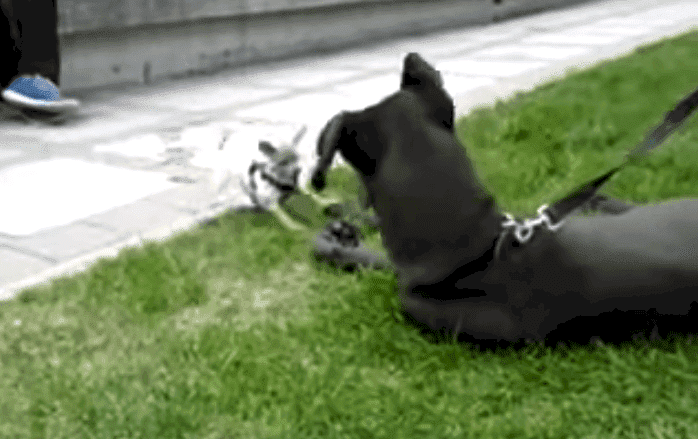 Source: Youtube/ebooAngel72
The tiny Chihuahua can only hold the position for a few seconds before collapsing and rolling down the little hill in front of the curious audience. Vago is worried and stands up to make sure that his opponent is not hurt. But he shouldn't worry; only her pride suffered a little.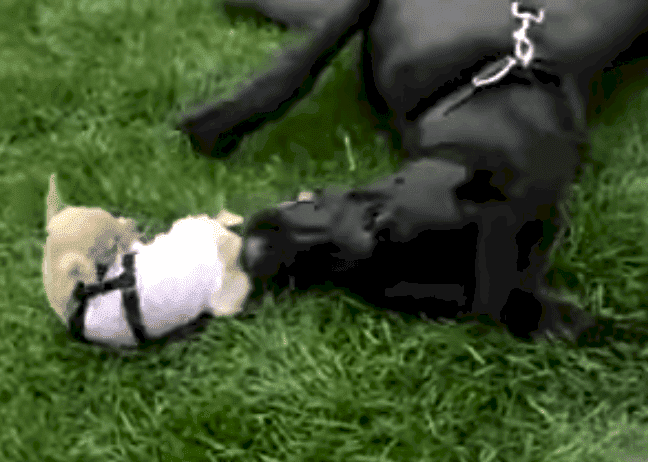 Source: Youtube/ebooAngel72
Just when it seems that Lilly is about to give in, she jumps back into the ring and gets some good "hits". For the Great Dane, everything was a very fun game, and for Lilly, a lot of action.
If you enjoy videos with lovely pets, you will love the one of this chihuahua practicing yoga with its owner, and their postures are simply perfect.
Some call this activity "Puppy Yoga", others nickname it "Doga". Everything indicates that there is a tendency to learn to do yoga, but you will not be alone, you will do it in the company of your dog.
Well, the Pancho chihuahua is able to reproduce these yoga postures perfectly. Incredibly, this dog imitates the postures that its owner makes. You can't stop looking at it!
Chihuahuas are definitely the best dogs if you don´t believe it let us tell you another story of a Chihuahua that surprised her owner with her sweet reaction after seeing for the first time her human newborn sibling.
When the baby's father approaches the dog to show her the newborn more closely, the playful pooch wagged her tail and lied on her back as if it was mimicking the new member of the family.
Please fill in your e-mail so we can share with you our top stories!