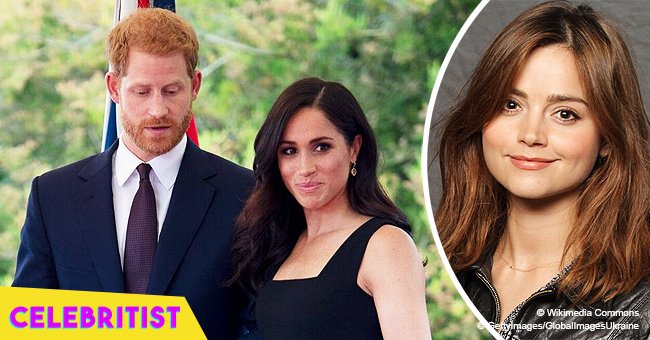 Prince Harry and Meghan Markle reportedly had 'awkward' run-in with his ex Jenna Coleman
Prince Harry and Meghan Markle bumped into someone from Harry's past in one of the events they attended recently, and onlookers described the encounter to be "awkward".
Over the weekend, the relatively newly-wed couple, Prince Harry and Meghan Markle made a trip to Amsterdam for the opening of the new Soho House. Present in the event were celebrities, Eddie Redmayne and Simon Pegg, Soho House executive Markus Anderson, and surprisingly, Prince Harry's ex, Jenna Coleman. The moment was said to be a very awkward one as the ex-love interest walked past each other during breakfast.
According to sources:
"Harry had to walk straight past Jenna to get to his and Meghan's table. It was pretty awkward and some of the other guests were commenting on it. Jenna looked down while Harry looked straight ahead, while Meghan didn't seem to notice. He'd been super friendly saying hi to everyone, but he didn't even acknowledge Jenna."
The actress was linked to Prince Harry back in 2015, after the two sparked a close relationship. This was a year before the Prince met Meghan and the time he was still known as the "playboy prince." They did not end up together, however, as she was in the event with her boyfriend Tom Hughes. Tom was also said to be pursuing Jenna the same time Harry was, but obviously, the Prince did not win the fight. Sources who have access to Jenna have said that she would receive messages from both of them at the same time, but she ended up with Tom.
"She had texts and date requests coming from both of them. She ended up going for Tom over Harry. I guess she knew she had more in common with a fellow actor. Tom was really into Jenna and they hit it off"
This "awkward run-in" wasn't the first encounter Prince Harry had with an ex, given that he was linked to a lot of girls. Just this summer, the Prince came face-to-face with someone he used to date before his relationship with Meghan – Burberry model Sarah Ann Macklin.
However, Prince Harry did end up being civil with some of his exes, including Cressida Bonas, 29, and Chelsy Davy, 32, who were invited to the Royal Wedding.
Clearly, it is possible to stay civil with an ex, even inviting them to your big day. For Prince Harry, it's a 50-50 situation given the number of girls he's dated.
Please fill in your e-mail so we can share with you our top stories!