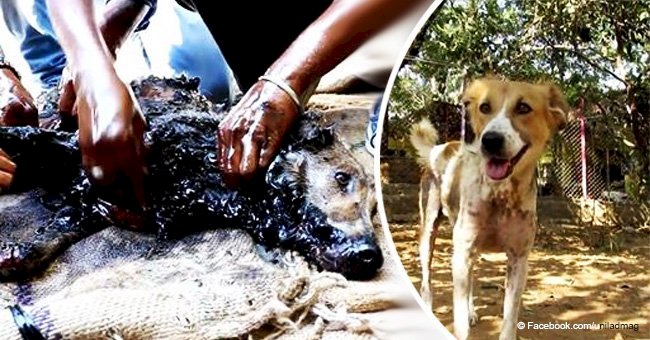 Heartbreaking footage shows street dog coated in tar and unable to run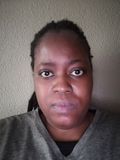 Volunteers from Animal Aid Unlimited found a dog on the streets of Udaipur, India. The canine was stuck in a steel barrel in tar and couldn't move.
Dedicated to saving the animal the volunteers cut open the steel barrel and set to work. The recovery made by the canine will make you believe in humanity again.
The dog was believed to have been stuck in the steel barrel without food or water for a few days. When Animal Aid Unlimited volunteers found it the dog was hyperventilating.
Realizing they couldn't rescue the dog, they had to move the barrel with the dog still inside. Then they cutting it open slowly before starting to loosen the tar around the animal using vegetable oil.

Source: YouTube/Animal Aid Unlimited, India
For more on this story go to our Twitter account @amomama_usa. The tar had embedded itself into the dog's fur.
The organization had this to say:
"Animal Aid Unlimited's rescue team found the sweet dog hyperventilating and terrified, trapped chest-deep in tar inside the drum. We think she may have gone inside the drum to get warm during the night, and that her own body heat started to melt the tar which she then sank into and was unable to free herself from."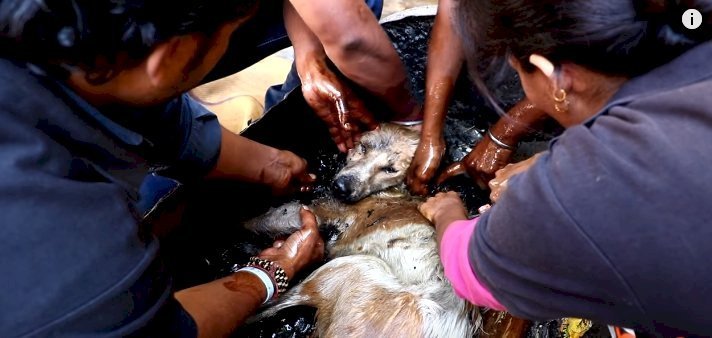 Source: YouTube/Animal Aid Unlimited, India
A few hours later, the dog was freed from the tar. However, the substance had badly burned and damaged its skin that it needed medical attention.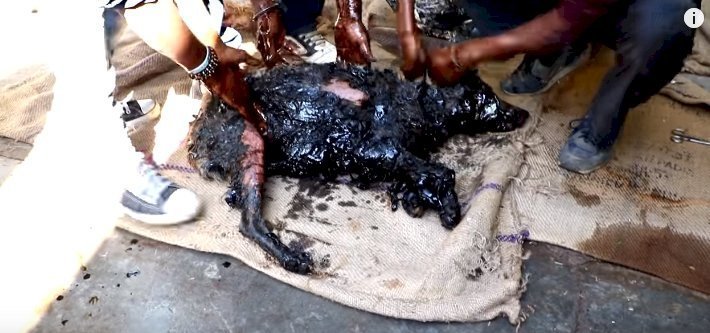 Source: YouTube/Animal Aid Unlimited, India
Three hours later, the animal could finally stand again. The volunteers who found and saved her named her Asha, which means 'hope' in Hindi.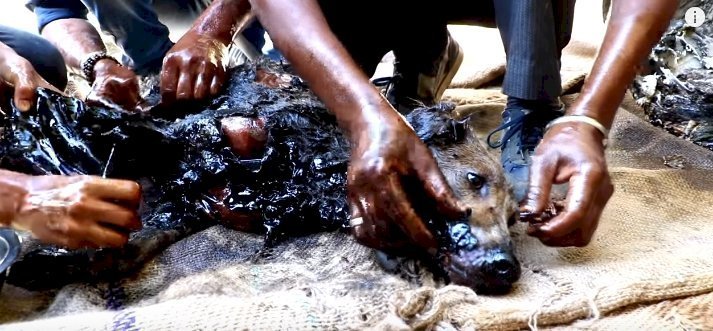 Source: YouTube/Animal Aid Unlimited, India
Footage of the incident showed how the dog was able to fully recover from the ordeal. Animal Aid Unlimited is an organization that rescues more than 3,500 dogs every year from the streets of Udaipur alone.
This year, a great number of dogs had to be rescued from areas of North and South Carolina, US, after Hurricane Florence. The hurricane caused damage in the area and forced families to leave their homes and pets.
In a similar story, a stray dog was close to death when it was rescued. Hsu Animal Sanctuary co-founder Hsu Wen-Liang was alerted to a dog trapped in the hardened tar in the ground.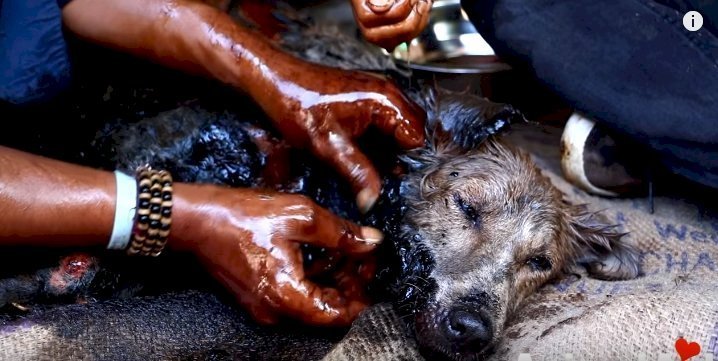 Source: YouTube/Animal Aid Unlimited, India
The dog, which volunteers named Shan Fu, was cleaned for hours using vegetable oil and flour. As it regained some of his strength, the volunteers realized they would need to shave the dog's fur to help it grow a new coat.
However, the dog survived.
Please fill in your e-mail so we can share with you our top stories!