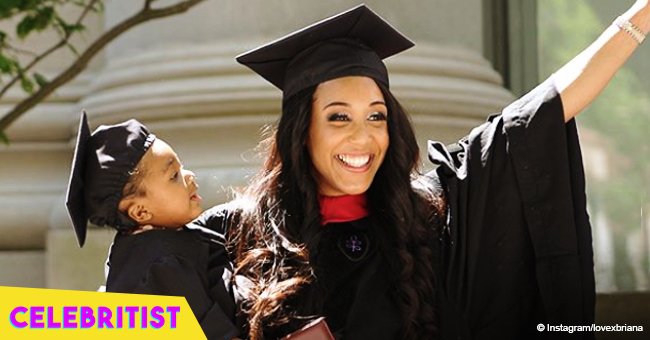 Viral law school student who went into labor during final exam period graduates from Harvard
After going into labor during one of her final exams, a law school student finally earns her well-deserved Juris Doctor degree from the Harvard School of Law.
Briana Williams found out that she was with-child while taking up her law degree at Harvard. However, instead of easily dropping out, she says that it was never an option for her and if anything, finding out that she was pregnant has made her much stronger and much more motivated to pursue her degree.
Briana is set to prove everyone wrong about the usual stereotype of young black single mothers. To her, getting pregnant at a young age is not a hindrance to achieving one's dreams, and instead, should even serve as inspiration for them to do better.
The 24-year-old recently graduated from Harvard Law School, one year after she went into labor during one of her final exams. Now, 1-year-old Evelyn was able to attend her mom's graduation right by her side.
Of course, the photo she posted on Instagram went viral, as her story of resilience was one that tugged the heartstrings of many from around the world.
Last April, she was finishing her take-home final exam while in labor because she didn't want her pregnancy to interfere with her law school grades.
"I went into labor in April during final exam period. I immediately requested an epidural so that my contractions wouldn't interfere with my Family Law grade. And, with tears in my eyes, I finished it. This 'biting the bullet' experience is quite quintessential of my time at Harvard."
Of course, Williams wasn't always as confident, and there were some moments when she doubted herself and her capacity to make it. However, she DID make it, and that's all that matters - not all the names that she was called or the names she called herself as she thought she was a disappointment. Now, she is an inspiration to many to keep pushing for your dreams against all odds.
"I did not think that, at 24 years old, as a single mom, I would be able to get through one of the most intellectually rigorous and challenging positions of my life. It was hard. It hurt. Instagram can make peoples' lives seem seamless, but this journey has been heartwrenching. However, I am happy to say that I DID do it. Today, Evelyn in my arms, with tears streaming down my face, I accepted my Juris Doctor from Harvard Law School. At first, I was the anomaly of my [marginalized] community. Then, as a single mother, I became a statistic. Next, I pray that- for the sake of my baby, I will be an example."
Please fill in your e-mail so we can share with you our top stories!