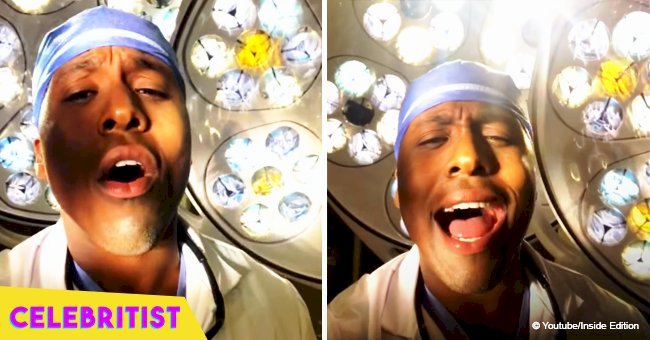 Doctor went viral for singing to patients between surgeries with his extraordinary voice
A surgery resident in New York sent the internet into a frenzy after a video of him singing went viral. He also had something to say to folks who said he missed his true calling.
Dr. Elvis Francois, an orthopedic surgery resident at Mayo Clinic in Rochester, decided to let out some steam after a spine trauma surgery. He filmed himself performing an impressive cover of Nina Simone's "Feelin' Good" and shared it via Instagram.
What followed was nothing Francois could have ever imagined. The handsome doctor went viral in no time and became an internet star. Speaking to Inside Edition, Francois admitted his surprise at all the attention.
"It's been pretty amazing. Most of the responses have been that it's really unique," he said.
But Francois explained that singing for him, has been a long time coming:
"I grew up singing and I have always been interested in music."
In a separate interview, Francois revealed that his dad, a New York City cab driver, had a lot to do with his love for singing:
"Seeing his passion for music, that was something that my brother and I latched on to. So music is something that I have been passionate about from a very, very young age, and I just clung to it."
Despite the typically busy schedule of a resident doctor, Francois made time once or twice a week to sing for staff and patients at the clinic. "I'll pick a song that has some good value and that people can relate to," he explained, adding that "singing helps [in] keeping spirits lifted between cases."
After the initial viral clip, Francois shared another video; this time joined by fellow doctor William Robinson. Francois sang a brilliant cover of Mike Yung's "Alright," accompanied by expert piano play from Robinson.
The internet was even more impressed by the duo's performance, and the clip was shared so much that it eventually got to famed TV show host, Ellen DeGeneres. Their story was also published on numerous media outlets.
Robinson told Ellen they decided to make that video because they "found that music and some of the intangibles can play just as much a part in healing as does the drugs and surgery and everything else."
While many fans commended Francois for his vocal abilities, others pointed out that perhaps he missed his life purpose. But Francois, who hopes to continue combining music with medicine, summed it up perfectly:
"Music is universal…Music is medicine."
Please fill in your e-mail so we can share with you our top stories!