Meghan Markle turns heads in leather skirt and $100 top, clasping hands with Prince Harry
Meghan Markle and Prince Harry, the Duchess and DUcke of Sussex, recently visited their namesake county, and the locals couldn't get enough of them. The royal couple walked along the street high fiving kids, shaking hands with moms, and packing on a little PDA in the middle of it all.
Prince Harry and Meghan Markle, The Duke and Duchess of Sussex, make their first joint official visit to Sussex. Pic @PA pic.twitter.com/xNobIMuPg8

— Derek Momodu (@DelMody) October 3, 2018
After four months of receiving the titles of Duke and Duchess of Sussex, Meghan and Harry finally made their first joint visit to the county, and they looked terrific, as usual.
Markle stunned everyone wearing a cream-colored Armani coat over a pencil leather skirt from Hugo Boss, a $99 black silk shirt from & Other Stories, and a pair of beige suede Stuart Weitzman heels. She accessorized her look with a green "Satin Demi" bag by Gabriela Hearst, a beaded bracelet, a double chain bracelet, and a signet ring.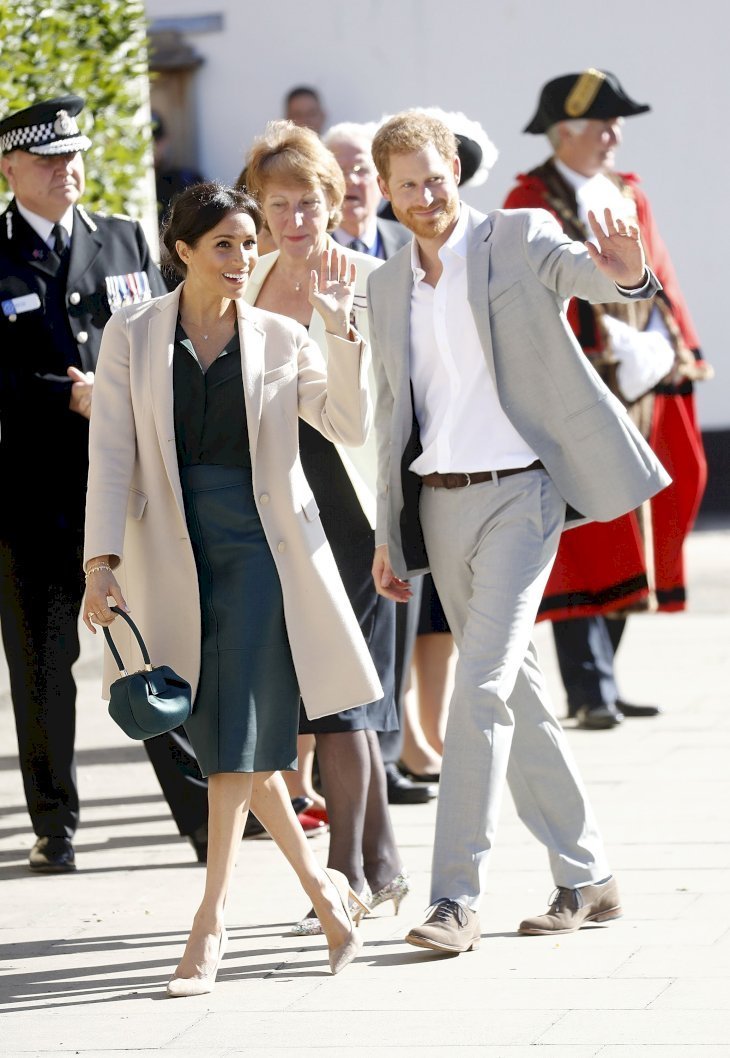 The 37-year-old tied her hair back into a low bun letting two strands of her to frame her face. Harry, on the other hand, wore a grey suit with a white button-up shirt and brown shoes.
The pair arrived at the county on Wednesday, and a crowd was already waiting for them on the streets. They met a  group of kids of the Westbourne House School, who gifted Markle with an A-Z guide to Sussex. "Oh my goodness, thank you. That's very cool," she said to the excited kids.
Meeting children from @ThePrebendal School – a fantastic welcome at the start of #RoyalVisitSussex! pic.twitter.com/bY9grroLiR

— The Duke and Duchess of Cambridge (@KensingtonRoyal) October 3, 2018
On their first appointment of the day, Harry and Meghan visited the Edes House in Chichester, where they got to see a rare handwritten copy of the Declaration of Independence. The manuscript is one of the two original copies of the document; the other one is kept in the National Archives in Washington, D.C.
🔎 Taking a closer look at the Sussex copy of the Declaration of Independence, a rare copy of the American Declaration of Independence – and one of only two in existence that was discovered in 2016 #RoyalVisitSussex pic.twitter.com/1lueajUbjp

— The Duke and Duchess of Cambridge (@KensingtonRoyal) October 3, 2018
PACKING ON THE PDA
If there's something Meghan and Harry are good at, is not keeping their hand to themselves. While is rare to see a couple from the royal family being touchy-feely with each other, Meghan and Harry have proven they couldn't care less about the standards.
Meghan and Harry put on a VERY tactile display of affection as they are mobbed by adoring schoolchildren https://t.co/tKV7V5gyCA pic.twitter.com/YNUhDkyviW

— Daily Mail U.K. (@DailyMailUK) October 3, 2018
While some people have criticized this behavior, deeming it inappropriate, others find it normal and relatable, making Meghan and Harry a lovely and modern couple that proves old rules can always be changed to show a more human side of the royals.
An affectionate rub on the back for Harry from Meghan #Sussex #Brighton pic.twitter.com/pIFQrT8rLC

— Rebecca English (@RE_DailyMail) October 3, 2018
While of their visit, they held hands in the middle of a photo session at the Joff Youth Centre, and Meghan was also caught rubbing her husband's back while they talked with kids.
Royal etiquette expert Myka Meier, founder, and director of Beaumont Etiquette told PEOPLE: "There is no protocol that says they can not show affection on official engagements, and this gesture makes them relatable and lovable to the public."
And continued:
"Meghan and Prince Harry holding hands at a royal engagement is a refreshingly modern approach to their new role both as a couple and as representatives of the royal family."
The Duke and Duchess of Sussex leave after visiting the University of Chichester, Bognor Regis, West Sussex pic.twitter.com/iHpdEyEMEP

— Derek Momodu (@DelMody) October 3, 2018