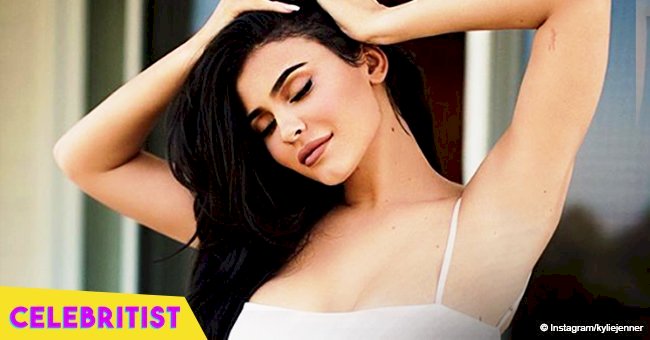 Kylie Jenner tenderly snuggles daughter Stormi as they watch the sunset in Miami in new photos
The makeup mogul kept her pregnancy a secret until after her daughter was born, and even though she had vowed to keep the baby away from social media for a while, Kylie seems to have listened to eager fans who want to see the adorable girl even if it's just on pictures.
The new mom has been gushing about her girl for months now, and in recent pics shared to her Instagram, Kylie showed the undeniable bond they have. Standing in front of what seems like a balcony facing the sea, the mother-daughter duo enjoyed of the beautiful view while snuggling closer.
The first pic shows Kylie's and Stormi's backs as they calmly observe the changing colors of the sky, and in the following pics, Kylie starts to slowly move her head toward the baby, first keeping a neutral look on her face and later breaking into a grin while hugging Stormi even closer than ever.
Stormi was rocking a pink ensemble of t-shirt and shorts, and her curly hair was tied in a little bun atop her head. Kylie, on the other hand, kept it casual with a black t-shirt of the band Nine Inch Nails, and she let her pink-blonde locks loose as she pulled Stormi in close for a cuddle.
"you are my happy place," she captioned the picture.
Fans took over her comment section to share their thoughts on the photo. One user wrote "these pics are everything!!! Natural pure, beautiful mother and daughter bonding," another added, "You and your daughter look soooo cute all the time," and a third one said "That look of true happiness. You go girl!"
Stormi Webster is the first daughter of Kylie Jenner and her boyfriend, Travis Scott. She was born back in May, and it was only after she was born that her mother made the big reveal about her pregnancy on social media.
MIDWIFE KRIS JENNER
In a recent episode of "Keeping Up with the Kardashian," mother Kris Jenner discussed Kylie's birth process as she praised the girl for being such a camp in supporting the pain. She said:
"She did really, really well. She just kept saying, "I just don't feel any pain." You'd see these contractions like crazy and she would go, "I just am not feeling it."
Kris revealed that Jenner's attitude didn't surprise her since the girl was more than ready to have her baby in arms, and shared a vital piece of information on Stormi's birth saying:
"I'm like, "This is really weird!" She was such a trooper. She really was. She was so calm. It was really exciting. I delivered the baby! I delivered her. I pulled her out."
On her revealing Instagram post after the girl's birth, Kylie wrote on the caption of a homemade video:
"Pregnancy has been the most beautiful, empowering and life-changing experience I've had in my entire life and I'm actually going to miss it. I appreciate my friends and especially my family for helping me make this special moment as private as we could."
"My beautiful and healthy baby girl arrived February 1st, and I just couldn't wait to share this blessing. I've never felt love and happiness like this I could burst. Thank you for understanding."
Please fill in your e-mail so we can share with you our top stories!