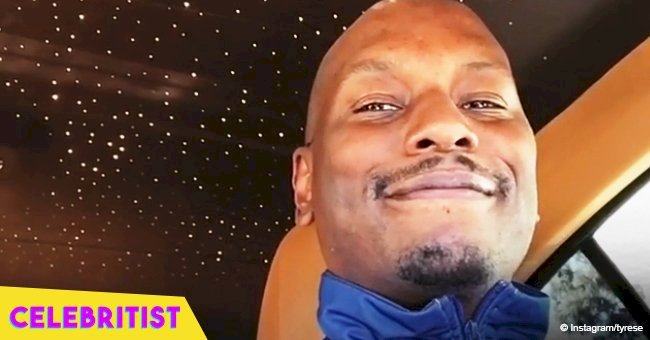 Tyrese Gibson melts hearts dancing with his newborn daughter in cute video
Tyrese Gibson celebrates his first dance with his newborn daughter in a delightful clip he posted. However, his daughter wasn't too impressed according to the actor because of one particular reason.
Tyrese Gibson's latest video post is ten times adorable. In the clip, the R & B singer shares his first dance with his newborn baby and enjoys every moment of it.
Tyrese and his wife Samantha Lee Gibson just welcomed their daughter, Soraya on October 1. In Instagram, the proud father announced his daughter's arrival and even praised God for the precious gift.
"Father God we love you for delivering on your promise princess Soraya Lee Gibson is here...... 8 pounds 6 Oz our lives just changed forever."
In April, Tyrese told People he was literally screaming when he first found out the news that his wife was expecting. He also said,
"Both of our love and energy and magic and families are bonded forever because we're going to have this child."
Since learning about his wife's pregnancy, Tyrese has been documenting their journey to parenthood. The 'Fast and the Furious" star at one point lauded his wife for her strength as her due date neared.
"#40Weeks pregnant and she's still working out 4 days a week........ The #StrengthOfaWoman is unreal........... Married and family life will always turn your house into a home......"
And now that their little princess has been delivered, Tyrese is determined to make every moment with her count. Just days old, he already celebrated their first father and daughter dance. In the adorable clip he posted, the actor lovingly holds his daughter with one arm as he dances around their home in his pajamas. Feeling the music, a smiling Tyrese showcased his dance moves as he admired his baby and kissed her at one point. In his caption he revealed it was his wife who took the video but that he failed to impress his daughter who was asleep the whole time.
"One day she will know that her father broke it on down for our first dance! #DaddyDuties shot by her amazing mother aka #QueenPowerGod #PrincessSoraya was unimpressed cause she slept on our first! #HappyJoyfulGratefulParents #TheGibsons"
Soraya is Tyrese's second child and his first with Samantha. He has an older daughter, Shayla who's 10 and whose mother is his ex-wife, Norma Mitchell. The couple had an eight-year heated custody battle with Norma accusing Tyrese of child abuse. But the court ruled in favor of the actor who was awarded joint custody in November.
Following his court victory, Tyrese had a reunion with Shayla. He wore his Shayla Rocks hoodie and leather pants when they dined in Nobu Malibu overlooking the ocean. The six-time Grammy nominee was finally sighed in relief after the custody battle cleared him of child abuse accusations. He revealed to TMZ his career suffered because of his ex-wife's claims. Now that his name has been cleared he intends to clean up his reputation and get back to work.
Please fill in your e-mail so we can share with you our top stories!