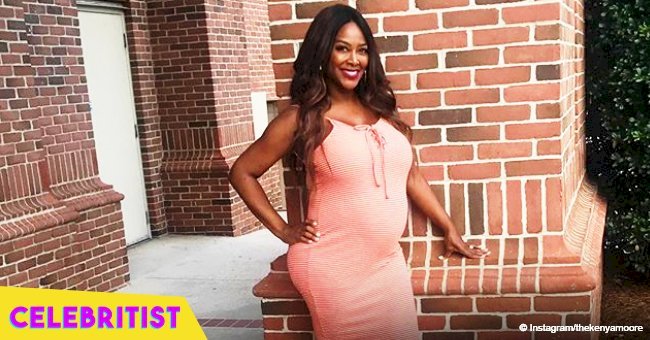 Kenya Moore accused of faking pregnancy after video of her 'breakdance' was shared by Kandi Burruss

TV star Kenya Moore, best known for "Real Housewife of Atlanta," was slammed after "breakdancing" while pregnant in a video that Kandi Burruss uploaded to Instagram.
In late-September, Kandi uploaded a slideshow to social media showing a couple of videos of a party they had at her restaurant, Old Lady Gang. The first pic portrayed Kandi wearing a black ensemble while Kandi chose green pants and a white shirt.
The rest of the files in the slideshow were videos of the celebration. One of them showed Kenya in the middle of the dancefloor doing the basic step in breakdancing, as well as making Kandi believe that she would make some acrobatic move.
Unfortunately, that video made several people think that Kenya was faking her pregnancy.
PEOPLE'S REACTION
One of them was Instagram user Angel Revlon, who said that it looked like if Kenya was wearing a fake baby bump. @lovenini3 chimed in and said that it was the longest pregnancy ever.
Melissa Boston admitted that Kenya was probably trying to stay pregnant until the following season of "RHOA" as it seemed like if she had been pregnant for a whole year, but she is allegedly only five months.
ACCIDENTALLY REVEALING THE BABY NEWS
Kenya apparently revealed the pregnancy news by accident in April during a reunion of several members of "RHOA." In it, she said that she would welcome a boy or girl at the end of 2018.
Even though Kenya herself talked about the pregnancy and that she has shared photos showing her bare belly, some people still say that she is faking it.
KENYA AND PORSHA POSING TOGETHER
As People reported, Kenya and her fellow "RHOA" co-star, Porsha Williams, attended the star-studded premiere of WEtv's new show "Growing Up Hip-Hop Atlanta.
One of the photos of the slideshow that Porsha uploaded to Instagram, both ladies were smiling at the camera while gently caressing their baby bumps. Kenya was wearing a black dress while Porsha put on black pants, a matching top, and a black and grey jacket covering her upper body.
THEIR RELATIONSHIP
That reunion surprised several people given the fact that Porsha and Kenya, who were together on the Bravo reality show from 2012, had a problematic relationship.
Their differences appeared to be a thing of the past as both of them looked very happy to be next to each other.
Please fill in your e-mail so we can share with you our top stories!