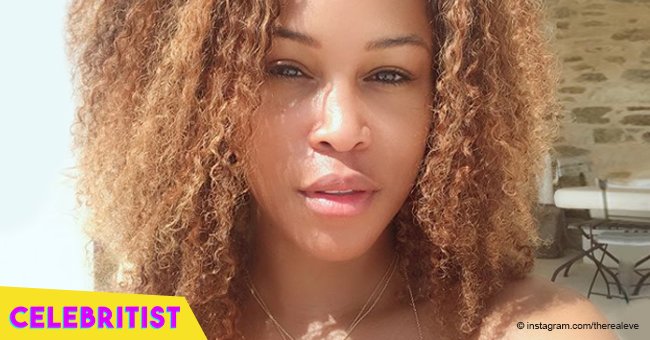 Eve rocks tight, leopard-print dress and curly hair in recent picture
After switching her look by ditching her weaves, Eve has been capturing hearts on "The Real" and all-over social media with her naturally curly hair. The rapper recently shared a gorgeous pic rocking animal print, after she revealed the embarrassing story of how she met Janet Jackson.
Eve is only one year away from reaching her forties, and she doesn't look a day over 30. The star recently delighted her Instagram followers with a pic of her "wild" look, as she rocked a tight leopard print dress that hugged her curves in all the right places, and her naturally curly hair beautifully styled in an afro.
She completed the look with some rings and two bracelets, standing next to the door of her dressing room at CBS, where the talk show "The Talk" is recorded. "#leopardandcurls," she captioned the photo.
Fans of the TV co-host flocked her comment section with praises about her look. One user wrote "Love this look.... one word.... ravishing!" another added, "You became even more beautiful with the years! Aging super gracefully!" and a third one said "Love that hairstyle. Natural beauty."
THE RISE OF NATURAL HAIR
It seems like Eve is giving her colorful wigs and weaves a rest these days. Although she looks fantastic with any hairstyle, since she returned home from the Gumball 3000 rally in Tokyo with her husband, Maximillion Cooper, the star has been keeping it real on social media.
Like most black women, Eve was a bit insecure about her significant other watching her hair on its natural style. That's how she knew Maximillion was the one, as she revealed on an episode of "The Real" last year. "I wouldn't let a guy see me in my braids and in that moment. But now I'm like, 'Yeah, I don't care,'" she said.
And recalled:
"I was at a salon actually, in a little suite. He walked in, and I was like, what am I gonna do? Run? He was just like, 'Okay.' I'm his first Black girl anyway. He has gone through Weave 101 with me. He knows now that if I say, 'Babe I'm getting my hair done,' he's like, 'Well, how long?'"
Eve is setting a good example for girls of all ages who are afraid of rocking their natural hair. Just by looking confident in her looks and showing off a great attitude, she's helping thousands of girls who follow her career.
She's always been a confident, gorgeous woman, but a few years ago, she was the victim of a failed drug attempt at an industry party. And her savior was the most unexpected person.
JANET AT THE RESCUE
While talking about the dangers of leaving one's drink unattended at any kind of event, but especially a good party, Eve recalled one time she was having fun at an award after-party surrounded by people from the industry that she knew.
She confessed that since she felt at ease, she kept on putting her drink down, walking around the room, and then picking it back up. That happened for a while until she started to feel something was off. "Probably about an hour after the last time I picked my drink up, I started feeling crazy. Not drunk," she said.
"I knew immediately something was different," Eve recalled. "It was weird because I was there, but I wasn't there."
Even told the person she was with that something was off, but their answer was "you're just drunk." However, that's when Eve started crying, and she was taken to another room.
"I get put into a room, and I'm crying, and I'm like, 'Guys, I'm telling you something's wrong'… and I hear this really soft voice that's like, 'It's okay, it's okay. I'll take care of it."
"I'm like snot crying, yall. And I turn around it's Janet Jackson. And she's like, I got this. Don't worry. Relax. Calm down."
Naturally, Eve felt humiliated about the encounter, since it was the first time she met the iconic star.
"I am so ugly when I snot cry," she quipped. "I was so embarrassed!"
While it was embarrassing, the situation serves as a perfect example of black women looking after their peers without expecting anything in return.
Please fill in your e-mail so we can share with you our top stories!