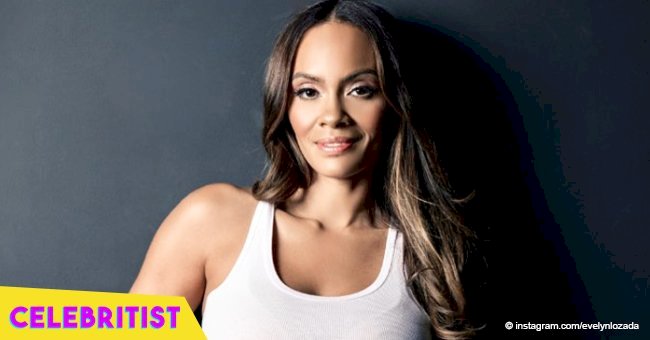 Evelyn Lozada's grown daughter shares new pic with brother who doesn't look like her

Evelyn Lozada's daughter, Shaniece Hairston, was a hot topic at the last "Basketball Wives" season finale but the beauty didn't seem to be bothered in a recent photo she shared with her brother.
Hairston posed up a storm in a skimpy cleavage-baring crop top and black pants. She crouched seductively next to her brother, four-year-old Leo who wore a white shirt and knelt forward for the shot.
The siblings posed against a backdrop of the hills at sunset, giving the photo a picturesque feel. Even though Hairston and Leo bear no resemblance, the two appeared close, and Hairston's caption confirmed it.
Last month, there were reports about some of her mother's "Basketball Wives" co-stars saying nasty things about Hairston. The incident was so heated that Lozada and her close friend, Jennifer Williams almost got into a huge fight.
Williams allegedly brought up some rumors about Hairston that Lozada found discomforting. One of those speculations claimed that many years back, Hairston was responsible for paying the bills when Lozada was broke. There were also insinuations about how Hairston might have come about the money.
Hairston also sparked a barrage of negative comments in December 2017 when she was caught in a Photoshop fail. The "Good American" model shared a photo with her mother alongside an endearing message for her birthday, but fans were more concerned with Hairston's arm that was distorted.
Lozada had come to her daughter's rescue, claiming Hairston has long and lean arms, but no one was buying it.
"She needs to chill with the Photoshop, one person wrote. "That ain't a long, lean arm that is a disfigured arm."
So far, little Leo seems to have escaped the harsh reality of social media since his birth in 2014. Lozada shared a photo of the growing boy flaunting a trendy haircut and also reflected on the hold he has on her:
"Leo determines what I do with my day. I pretty much live my life at the zoo, aquarium, park, museum. People would probably be surprised to know that I actually love going to Disneyland–a few years ago I would have told you, hell no!"
Meanwhile, Lozada, who shares Leo with her ex-fiancé Carl Crawford, revealed in 2015 that she had gotten pregnant again but suffered a miscarriage. Then in 2016, the reality star revealed she had had three miscarriages over the past year and a half.
Before she and Carl Sr. broke up their engagement in 2017, Lozada had been open about wanting more kids, but for now, Hairston and Carl Jr. are doing just fine for the 42-year-old doting mama. Alongside her kids, Lozada currently stars in her OWN reality show, "Livin' Lozada."
Please fill in your e-mail so we can share with you our top stories!